Former KU RB Khalil Herbert posts letter to explain departure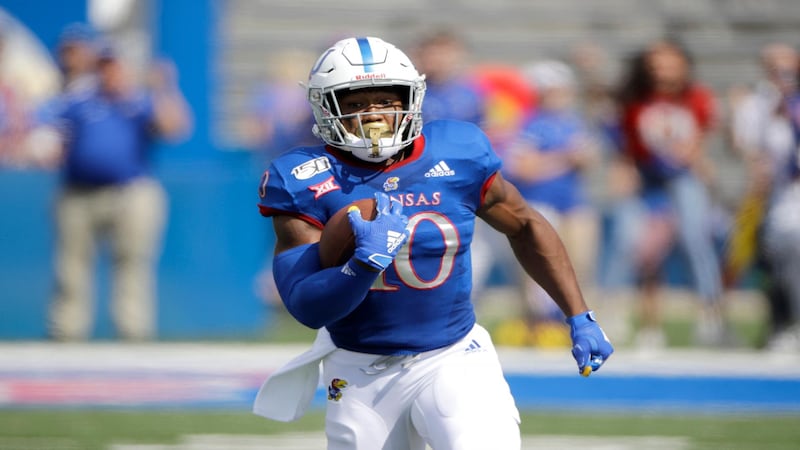 Published: Oct. 3, 2019 at 9:08 PM CDT
After KU stated no reason for former running back Khalil Herbert's
Herbert himself decided to shed some light on the situation.
Herbert
on Thursday night to share his side of the story. In it, he explained he initially did not plan on leaving the Jayhawks when deciding to redshirt before the team's 51-14 road loss to TCU, a game he traveled for but did not play in.
"As many of you know by now, I made the decision to redshirt before the last game," Herbert wrote. "I am aware that things have been misinterpreted, but my intentions were not harmful. I intended to come back for my redshirt senior year, not to transfer or leave my teammates.
"Redshirting had many unforeseen consequences that my family and I did not know would result from this decision. Although things did not work out the way either side intended, I want you to know my intention was to not hurt the university, Jayhawk Nation, or my teammates."
As a senior, Herbert led KU in rushing up to this point in the season with 384 yards. He leaves the program with 1,735 yards for his career and spent a majority of the letter thanking everyone around him for his time with the Jayhawks.
"My time here at KU was nothing short of what I imagined college would be like," Herbert said. "Thank you KU for the opportunity to live out my dreams at the Division I level along with getting my degree. Thank you for allowing me to build relationships with great people I have come in contact with including classmates, professors, coaches, faculty and staff. I am grateful to be a future graduate of the University of Kansas."
While this may not have worked out how he originally intended, Herbert doesn't seem to be letting this exit make him bitter. He said he already misses his teammates and will continue to support them.
"I'm sorry things turned out the way they did because this was the last thing I wanted," Herbert said. "There was nothing more I loved than grinding, taking the field, and just being with you all each and every day. I wish you guys nothing but success this season and I'm always here if you guys need anything. You know I'm going to be cheering you all on no matter what, it's all love over here!"
Some teammates have been giving him the love right back. Fellow running backs
and
tweeted their support in response to Herbert's posted message, while wide receiver Andrew Parchment
"Free 10," with a heart to end his reply.