Vietnam War memorial rededicated after it was vandalized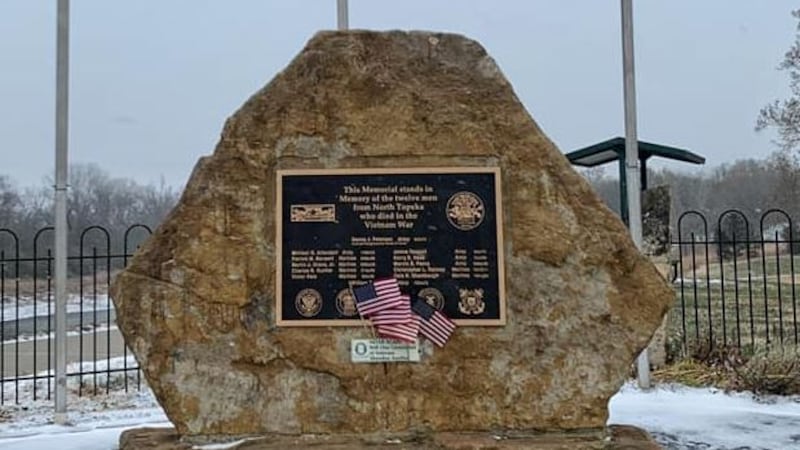 Published: Nov. 11, 2019 at 2:36 PM CST
After vandals left a 20-year-old memorial honoring 12 Topekans killed in the Vietnam War stripped of its plaques, local veterans took it upon themselves to restore it and to keep the names of the fallen written in stone for generations to come.
Back in May, caretaker Richard Thomas discovered the vandalized monument on a trip to clean the stone.
"I got out of my truck and I turned around and I noticed a big plaque gone first. And I said, 'Man, I can't believe it."
Ron Zink served three years for the 173rd Airborne Brigade, twelve of those months in Vietnam.
"It was an extremely sad day for everybody," Zink said."There was anger involved, a lot of us it kind of triggered our PTSD, and we had some tough days after that."
But that wasn't the end of this story — members of Vietnam Veteran Chapter 604 saved the original mold from 20 years ago and sent it off to produce an identical replica of the stolen one.
On this Veterans Day, the memorial stands restored to its former glory. Veterans rededicated it with a ceremony ensuring their fallen comrades are remembered for decades to come.
"They grew up in North Topeka, I knew some of them, grew up with them and stuff," Thomas said. "It's just an honor to keep it going."
"Those names are out there because those gentleman gave their lives to serve our country and represent North Topeka, and to have their names restored to the plaque, restored to the monument, it just means the world to us," Zink said.
The new bronze plaque was installed in August. Ren Newcomer, owner of Parker Price Funeral Home in north Topeka, replaced it at no cost.