Topeka fire crews continue to monitor brush fire, Nature Trail safe for use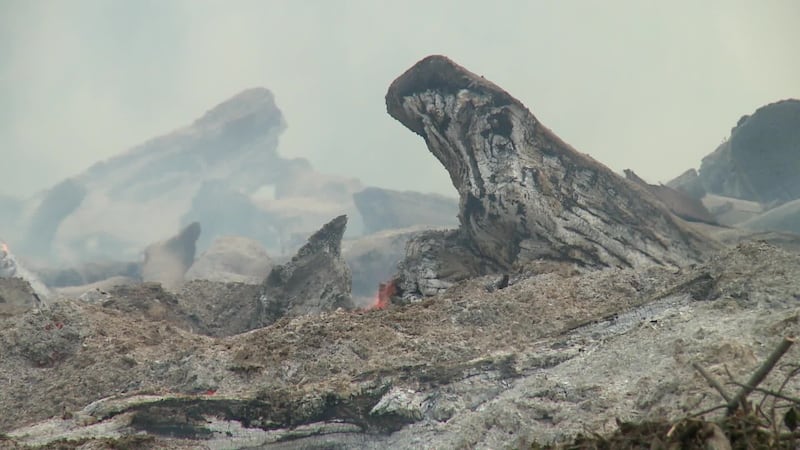 Published: Apr. 5, 2016 at 1:12 PM CDT
Topeka fire crews kept busy Monday night and into Tuesday morning checking on a large brush fire.
Topeka Fire Marshal Michael Martin says crews remained at the scene at 18th and SE Madison through the night. They were busy containing the perimeter of the fire to keep it from spreading.
The fire was first reported at 10:13 a.m. Monday. When crews arrived they found the large pile of brush heavily involved in flames.
Martin says the cause of the blaze is accidental. He says a tree service was in the area using an incinerator. As materials went into the machine an ember was able to escape sparking the flames.
He believes the brush pile will continue to smolder for at least the next week. Crews will continue to check on the scene.
The fire will also affect people using the Landon Nature Trail.
"I believe we're probably safe to have people traverse the area of the trail," Martin said. "It's really kinda going to be a nuisance of smoke now, but I don't anticipate high volumes of smoke coming out this. We're going to see it and probably smell it for a week or so."
Martin says the fire department teamed up with Topeka Police and the Topeka Rescue Mission to clear out homeless camps in the woods surrounding the area.
Firefighters also worked at least three other fires during the same time frame.
"It was pretty hard on the guys, it's a full 24 hours when you have days like this that you're up and moving and taking care of business," Martin said. "I would bet you there's going to be a lot of tired firemen today when they get home."
Martin wanted to give thanks to the other department that helped out at the scene including the Topeka Police Department, the Water Department, American Medical Response, the American Red Cross and the Topeka High School ROTC who provided water to the firefighters.