Topeka Easter Parade Promises Family Fun Saturday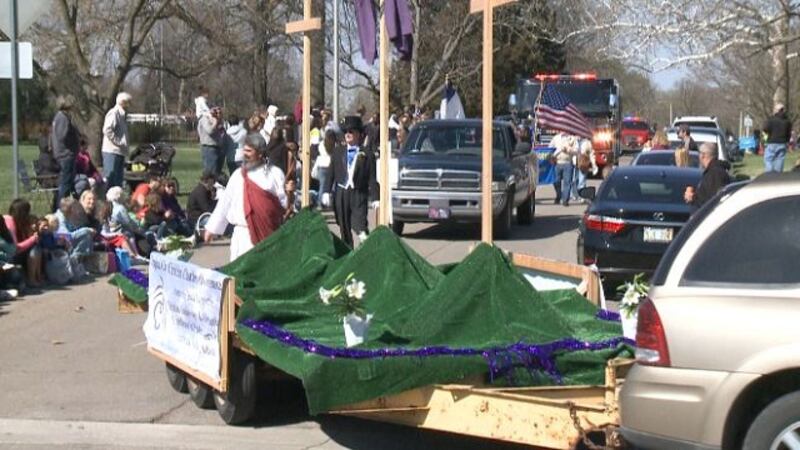 Published: Apr. 3, 2015 at 9:38 PM CDT
The Easter Bunny hopped back into Gage Park on Saturday for the second Topeka Easter Parade and Family Fun Fair.
Over a thousand people attended last year's event, leading organizers from the Christian Chamber of Commerce to hope for another successful one this year, which proved true.
"We worked on it last year and got it going and everybody loved it and wanted us to do it against, so now it's an annual thing," said C5 President Lee Hartman.
C5 is already planning for next year's Easter Parade and Family Fun Fair. An Easter egg hunt kicked off this year's events at 9 a.m. and the Easter Parade followed, starting at 10:30 a.m.
"We had a lot more people get involved this year, so there are a lot more booths and activities for kids and the parade is growing too. More people are coming on that want to be in the parade," said Hartman.
After the parade was over, there were activities for people to enjoy at Gage park, many of them teaching children about the true meaning of
Easter.
"Easter is all about Christ rising from the dead and underneath everything else, that's what it is," said Hartman.
To incorporate that message into kid's activities, the Western Hills Church came up with a unique way kids could remember the story of Easter.
"It's a dozen eggs because there is 12 days of the story. In every egg there's something to remind them. The first egg is a piece of fur to remind them that Jesus rode into town on a donkey, so the fur of the donkey," said Western Hills Church Lead Pastor Grant English.
Even though these eggs held different treats than the children may have expected, they were still excited to receive them.
The egg activity, along with all of the others during the Family Fun Fair, really put people, especially the kids, in an Easter mood, getting them excited for their plans on Sunday.