Tai chi helps cancer patients get into flow of healing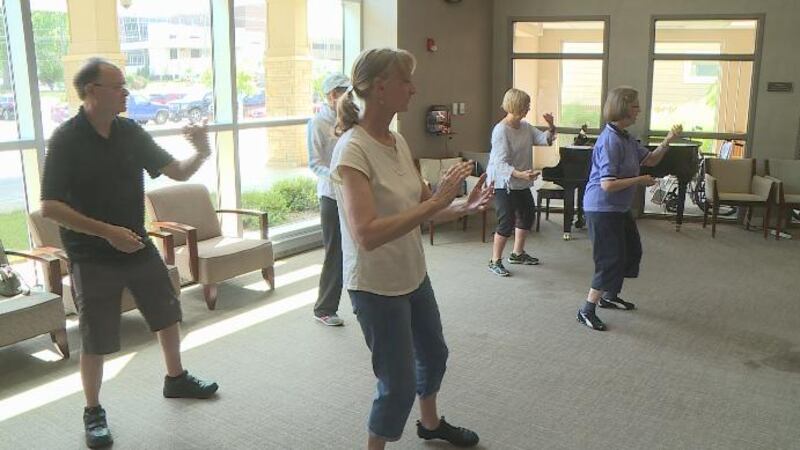 Published: Jul. 12, 2018 at 9:58 PM CDT
Soothing instrumental tones wash over a group lifting their arms as they rock their weight side to side on a recent afternoon.
They are members of a tai chi class at the Cotton O'Neil Cancer Center. Everyone in this group has been touched by cancer.
"It's kind of a flip from what a lot of people think of as exercise. It's a slow; it's rhythmic; it's kind of continuous movement," explained instructor Linda Gray, who is a two-time cancer survivor herself. "I got range of motion back personally in my neck through this so I know it works."
Studies show tai chi has physical benefits for cancer patients, including improving balance and stamina, and through those deep, cleansing breaths.
Gail LaGrone, who is a lung cancer survivor, said her doctors are pleased with how it has improved her breathing.
"It helps me because, (with) the lung cancer, they had to remove the right upper lobe of my lung," Gail said. "It helps me breath. It gets my oxygen level higher."
Plus, it's a proven stress relief.
"Cancer is stressful because you don't know the outcome," said Nancy Bryant, who is being treated for colon cancer. "When we do the warmup exercise, I can just...I close my eyes and I can just feel myself relaxing."
This group says the camaraderie also is vital. Steve Henry started attending the class when his wife was going through cancer treatment. She passed away three years ago, and he then cared for her mother through her cancer treatment, until her death.
"Family members of cancer patients need support as well," Steve said. "Tai chi was helpful to me during that period, and recovering (from) the loss."
Gail agreed.
"(It's) a lot of support, hope - you feel like you can do something," she said.
Tai chi can be a small step in moving forward.
"My advice is keep breathing, and keep moving - and you'll get through it," Linda said.
Tai chi classes are free for cancer patients and families. They meet once a week. You can get the schedule at your next cancer center appointment.