Show of solidarity, over 100 attend anti-travel ban rally at K-State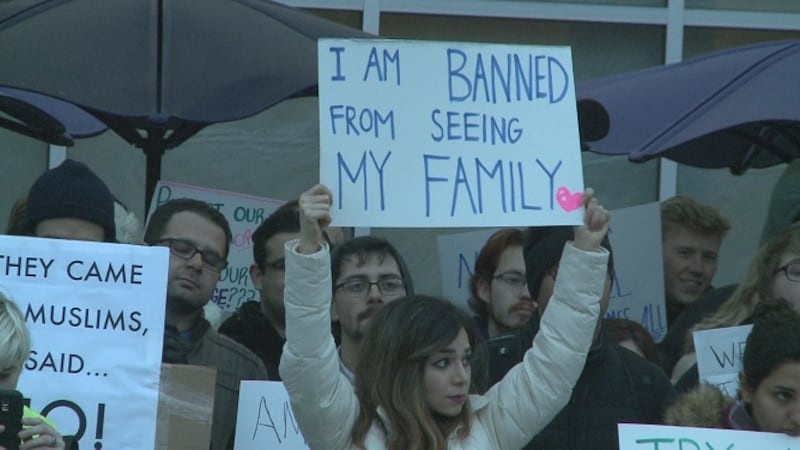 Published: Feb. 1, 2017 at 10:15 PM CST
Several K-State student organizations hosted a rally to protest President Donald Trump's executive order restricting travel from seven Muslim countries.
"The act of singling out individuals based on the countries that they come from, goes against everything we stand for," said April Petillo, Manhattan resident.
The rally for solidarity featured speakers from the Indigenous Alliance, Black Student Union and Muslim Students Association.
Sajid Rahman, a KSU student from Bangladesh, says he has first-hand experience of lengthy interrogations at airports just on the basis of being Muslim.
"Personally, from the last two times that I've travelled back from my country, I faced the same thing, so I know the experience that people are facing right now. This ruling actually affects lives and it affects people who are coming here on a legal basis, who are not illegal," said Rahman.
Zayed Ahmed, a KSU student from India says Muslims as a whole shouldn't be stereotyped as terrorists based on the actions of a few.
"Once you impose the ban, it adds fuel to the fear which is already present among the people," said Ahmed.
The goal of the rally was to demonstrate unity with those affected by the travel ban. According to K-State communications, 63 students and three scholars at the university are from the countries listed in the ban. The executive order bans entry for nationals from Iran, Iraq, Libya, Somalia, Sudan and Yemen
"Clearly, all of our religious traditions tell us that love and compassion is the way that we treat our neighbor, not with fear and resistance," said Universalist Unitarian Rev. Jonalu Johnstone.
Over 100 people attended the rally in a show of support.
"It gives all the Muslims here a great sense of security to see all these people stand up for them," said Ahmed.
"Making more friends, making alliances, and being united. That's our learning lessons from today's rally," said Rahman.
The Islamic Center of Manhattan said in a statement although they are deeply concerned about the recent decision on immigration, they're delighted with "the great support of the leaders, the churches and the civil rights organization of the Manhattan area."