Roundtable to discuss childcare concerns and solutions in Kansas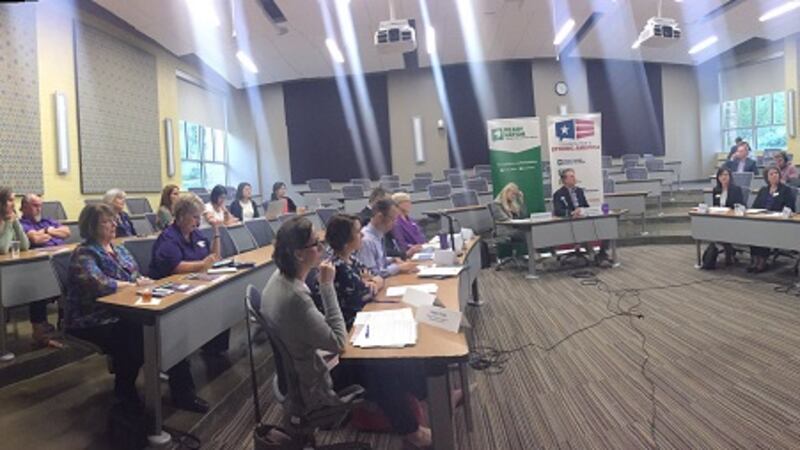 Published: Aug. 31, 2019 at 10:54 AM CDT
ReadyNation, the national business-leader group hosted Friday's roundtable discussion, Child Care Solutions will Boost Kansas Economy
Representative Roger Marshall expressed concerns about the continuing child care crisis and its effects on economic growth and development across the State.
The roundtable panel of local business leaders and child care experts, discussed concerns about the current childcare crisis across the state of Kansas.
Panelists included:
Melissa Rooker, Executive Director, Kansas Children's Cabinet and Trust Fund,
Trent Armbrust, Director of Economic Development, Manhattan Area Chamber of Commerce,
Caitlin Pride, Director of Mission Integration at Via Christi Health
Patty Peschel, M.S., Director, Kansas Child Care Training Opportunities
and from Kansas State University:
Bronwyn Fees, Ph.D., Professor, Family Studies and Human Services, Associate Dean, Health and Human Sciences
Mary DeLuccie, Ph.D., Associate Professor, Family Studies and Human Services
Bradford Wiles, Ph.D., Associate Professor, Extension Specialist Early Childhood
Rosie Mitchell, Director, Center for Child Development.
One of the concerns is that the cost of childcare on average across the State of Kansas is more per year than in-state public college tuition.
They also discussed some proposed solutions to help with the lack of available affordable accredited childcare.
"I haven't solved the problem today, this problem has been around forever…and…and it will keep being a challenge." Representative Roger Marshall (R-KS, 1st District) says.
The lack of quality affordable childcare leaves working parents distracted and unfocused at work, while worrying about the childcare needs for their family.