Colyer signs bill paving way for new self-serve craft beer shop in Topeka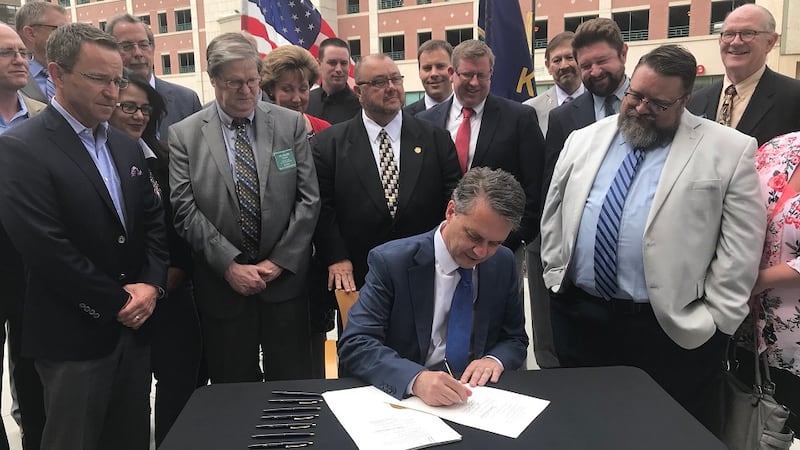 Published: May. 14, 2018 at 12:41 PM CDT
The dream of three Topeka entrepreneurs will soon be a reality, thanks to a bill signed into law Monday morning.
A year ago, the trio pitched an idea to open Brew Bank, a self-serve craft beer bar, in downtown Topeka. However, they faced at least one very big hurdle: the concept was illegal in the State of Kansas.
"We had to work on that," co-owner Dusty Snethen said. "We contacted the legislature and contacted ABC and started seeing what we needed to do to make this happen."
The Brew Bank crew won the 2018 Top Tank competition, which came with a $100,000 investment in their idea. That gave them even more motivation to get the legal changed they needed.
"The novelty of the Brew Man Group is exactly the kind of thing, along with many other investments that are occurring that are going to transform our downtown," Top Tank investor Mark Ruelle said.
On Monday, Gov. Jeff Colyer signed a bill with several liquor law changes, including legalizing self-service beer taps.
"We want entrepreneurs to invest in Kansas and this is a way to work with our partners and to help encourage them to develop here in Kansas," he said during the ceremony.
The bill solidifies the Brew Bank's place in downtown Topeka, adding to the vision of the entertainment district.
"There's really a renaissance happening down here in downtown and it's exciting to see all these things coming and we want to be a part of that," Snethen added.
And with the new law, they will be part of it. They expect to open their doors in a year.
The new law also allows permits for selling alcohol-laced candy and changes the time bars and restaurants can start serving from 9:00 a.m. to 6:00 a.m.