Learning the ins and outs of a Kansas wind turbine will blow you away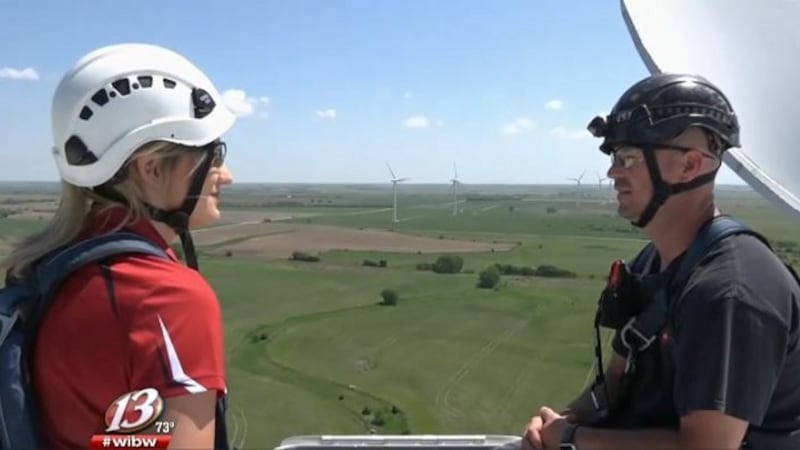 Published: May. 22, 2018 at 9:30 PM CDT
Whether you were on the highway headed to Colorado, Texas or somewhere closer like Wichita, you probably spotted wind turbines. But have you ever seen one close up or learned how they work exactly?
To get within 500 ft. of one of these monsters at the Meridian Way Wind Farm in Concordia you need steel toed boots, safety glasses and a hard hat.
Wind farms are a sight to see from a distance and even better from the inside!
Justin Steinbrock is no stranger to heights in wide open spaces, or climbing a ladder connected by magnets and tight, seven minutes elevator rides to the top.
"There's risk and there are hazards, but there are obviously tools and procedures to eliminate those..." Steinbrock said, "Everything's got to be tied down 100% of the time."
This electrician turned EDP Renewables Operation Manager is in charge of the 12 contract employees, two substations and 67 wind turbines that make up the 201 MW wind farm at Meridian Way.
"The Nacelles at other wind farms could be totally different than this, but the same basic concept," Ethan Mahin explained.
Mahin also works for the Texas-based company, as a Site Lead Technician. He says most turbines have a gear box and all have a generator, along with electrical cabinets and a converter section, "and that is what turns the power into good usable power that can go into your home," Mahin said.
Mahin explains the brains of the operation, "[The controller] tells you all your temperatures, your speeds, your electrical values, your anything you could want to know about the turbine."
Everything you can get to through this controller in the turbine you can also do through a computer anywhere in the world.
At 280 ft. up wind turbines they're create energy out of thin air, but how does this power get from here to your home?
"So they capture that energy and they deliver it onto the power grid," Westar Energy Media Relations Manager Gina Penzig said, "The equivalent of what's produced here is used to provide electricity to our customers."
Penzig says over the course of a year, about 1/3 of the electricity Westar customers use comes from renewable sources, such as wind farms.
And By the end of 2017, the World Wind Assoc. said wind turbines could cover more than 5% of the global electricity demand.
A map from the U.S. Geological Survey shows how it's grown from almost non-existent 20 years ago to about 57,500 turbines in the U.S. today.
Steinbrock says new technology allows them to program the turbines to work smarter, not harder.
"A wind farm this size if it was built now with new technology would probably produce, you know, 30% - 40% more power, Steinbrock said, "Just because there's that much more advancement in technology."
And with even more advances on the horizon, the sky's the limit!
"Wind energy is a proven industry that's here to stay, Steinbrock said, "And it's only going to grow."
Steinbrock says it's 280 ft. to the top of the nacelle, which sit on the tower and each blade is around 130 ft.
So, at the turbine's tallest point it's about 410 ft. To put that in perspective, the State Capitol Building is only 304 ft.