Junction City ends ban on pit bulls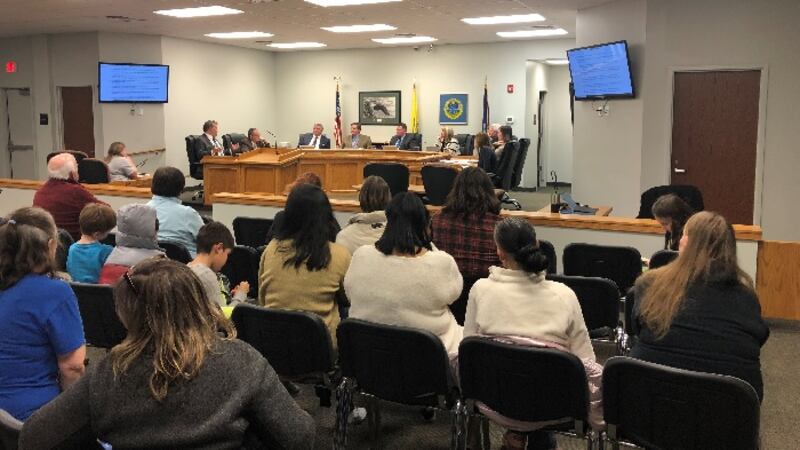 Published: Feb. 18, 2020 at 8:51 PM CST
In a split decision, the Junction City commission voted to end the community's two-decade ban on pit bulls.
The vote Tuesday night was 3 to 2. Commissioners Ronna Larson, Nate Butler, and Pat Landes were in favor of the repeal, while Jeff Underhill and Tim Brown cast the votes against.
More than 50 supporters wore orange ribbons for Tuesday's meeting. The group "Legalize Bully JC" worked more than two years to convince commissioners to make the change.
"We can get these dogs out of the shelter. People don't have to hide their dogs anymore they can come out loud and proud, with their pit bulls and own their pit bulls and not have to worry about a thing." Legalize Bully JC, founder, Emily Fawcett says.
With the ban repealed, commissioners unanimously approved two other ordinances setting out restrictions on animals and owners.
Owners will be required to to have any pit bulls spayed or neutered. They also must be microchipped, with the microchip matching the pet's registration. In addition, there can be no more than two pit bulls per household.
Commissioners also set out parameters as to who will be allowed to own a pit bull. Anyone who is a registered drug offender or violent offender will not be allowed to own the breed. In addition, the potential owner can have no felony drug, drug paraphernalia, or drug distribution convictions in the prior ten years.
It also will be a crime to falsify any documentation about the dog's lineage.
Supporters say singling out pit bulls as dangerous is a detriment to the breed, and hurts their chances of being adopted. They say the ban also was driving away potential residents. A prior attempt to get the ban repealed in 2018 was defeated.
However, people who wanted the ban to stay in place argued they believe the breed is prone to violence.