ONLY ON 13: Judge Franklin Theis stepping down after 42 years, "I gave my best"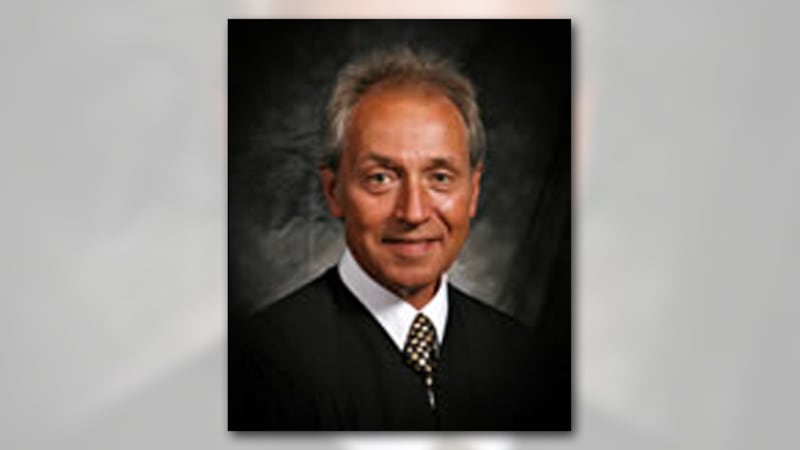 Published: Jul. 31, 2019 at 4:40 PM CDT
Since he was first elected in 1977, District Court Judge Franklin Theis has served 42 years as judge, the longest-serving judge in Shawnee County history.
Theis, who is 77-years-old, retired Wednesday, but the record-setting amount of time isn't what Theis wants to be remembered for.
He wants to be remembered as a judge who did his best.
"I feel I gave my best effort," Theis said.
District Court Judge Richard Anderson said Theis has strong judicial qualities.
Theis has a reputation as a judge who is patient and considerate, Anderson said, and Theis exercises thorough analysis, listens carefully, and is a smart lawyer who researches matters well.
"He is fair and has all the qualities you want in a judge," Anderson said.
Theis has served with 41 judges, which is more than two-thirds of the 59 judges who have worn the black robes during the county's history.
In his 42 years, Theis was elected or retained as judge 11 times. In 1987, Theis became the first Division 7 judge, a post he has had for 32 years.
Theis has conducted court in the same third-floor court suite in the county courthouse since 1991 when it was converted from a wing of the old Shawnee County jail into court facilities.
During a retirement reception Wednesday night at the downtown Ramada Hotel, Theis was surprised with a plaque, dedicating the courtroom in his honor.
Theis called the honor - presented before a crowd of fellow judges, lawyers, and court staffers - overwhelming.
"I love these (people). All these people are good," he said. "Lawyers are hard-working; people in the courthouse are hardworking; the courts are our most transparent institution in America; and I've been very proud to be a part of it."
Theis received his law degree from the University of Kansas in 1967, briefly worked in private practice, worked as the governor's pardon and parole attorney until 1971, was appointed as a chief attorney for the Department of Administration for four years, and handled civil cases for the attorney general's office.
In ascending to the bench, Theis was inspired by his father, Frank G. Theis, who was appointed as a U.S. District Court Judge in Kansas in 1967.
"He got on the bench and he enjoyed it so much," Theis said. "It appealed to me."
In 1976, Theis ran as a Democrat seeking election as an associate district court judge.
"The opportunity was there," Theis said. "Opportunity and desire met up, and fortune gave me the job."
Theis credits Jimmy Carter's presidential victory with aiding his own 1976 election win as associate district court judge.
"Fortunately, Jimmy Carter played well in Kansas," said Theis, who was a Democrat. "It was quite an upset."
Carter was elected two years after Republican President Richard Nixon resigned from office in the Watergate scandal, defeating then-President Gerald Ford in the 1976 election. Kansas Senator Bob Dole had been on Ford's ticket.
As an associate district court judge, Theis handled traffic, limited action cases and small claims cases.
"If you want to learn how to get along with people, you handle the small cases and traffic. It really trains you how to work with people," Theis said. "It gives you an appreciation for the idea there is no small case. If you're in court, it's not a small case to you."
Theis was so busy due to the heavy flow of cases that he didn't have a vacation for four years, he said.
"It was hand over fist," Theis said of the volume.
In 1987, Theis and other associate district court judges became district court judges, and Theis handled a 50-50 mix of criminal and civil cases.
"That was my favorite assignment and the most efficient way to handle all those cases," Theis said. "The real business of the courts is daily cases."
Just because some case receives more notoriety than other cases doesn't mean the judge will give the higher profile case more attention, the judge said.
"Being a judge is a lot of work," Theis said. "You're really the chief cook and bottle washer. (As judge), you have to read all the records before you make a decision.
"I decided early on the most efficient way to do it was to do it yourself and do research yourself," Theis said. "It's your reputation that's on the line. I felt I gave my best effort and made the best decisions I could."
Theis added that no one would call him "speedy" in turning out case decisions.
"It'll be done when It's done. And not before," he said.
Theis said several Shawnee County judges were memorable mentors:
-- Judge E. Newton Vickers, a World War II Marine veteran, who was probably "the most well-liked judge they've ever had around here. He was excellent."
-- Judge Michael Barbara, an authoritative judge who wrote a criminal law handbook and who was "a very peppy guy."
-- Judge Adrian J. Allen, who was "a little stricter than some, a real disciplinarian."
-- Judge William R. Carpenter, a "very bright guy."
In one memorable case, Theis heard the first testimony in Shawnee County about DNA evidence, then ruled the DNA evidence was admissible. The DNA evidence showed a man who was convicted of sexual assaults couldn't have been the depositor of semen collected during the investigation.
On July 17, 1992, Theis ruled the DNA evidence was admissible, then vacated the defendant's conviction and ordered a new jury trial, according to a U.S. Department of Justice publication.
Shawnee County prosecutors declined to refile charges against the defendant, and he was released that day. The defendant had been incarcerated for six-and-a-half years based on the original evidence.
Theis counts among other memorable hearings he handled:
-- The first time Westboro Baptist Church went to court in connection with its picketing of churches.
-- Granting permission to news outlets to photograph a criminal case in a courtroom.
-- Efforts to order placing caps on damages in lawsuits.
As for Theis' 42-year term of service, he said he never thought of setting a record for his length of service. He said it was about finishing a job.
"I didn't want to retire while that school case was going on," Theis said. "It was still an active case, and I didn't want to jump ship then."
Theis was referring to the multiple-year Gannon school funding case in which he led a three-judge panel that spurred an annual $90 million increase in school funding in Kansas in the 2019 legislative session.
Judge Anderson suggested Theis may be one of the longest-serving judges ever in the state of Kansas.
The Kansas Office of Judicial Administration and the Kansas Bar Association don't have statewide figures reflecting how long judges have served. However, a Shawnee County District Court judge had data about Shawnee County judges.
In April 1991, District Court Judge William R. Carpenter first tracked Shawnee County judges' names, the years they served, and the court divisions they served.
The numbers were revised in January 2006, and a 13NEWS reporter updated them again in July 2019.
Shawnee County District Court first started with one court division in 1855 and now has 15 divisions.
Since 1855 when Judge Rush Elmore was sworn in, 59 judges have served in Shawnee County District Court. The 1855 date predates the creation of Kansas as a state on Jan. 29, 1861, by at least five years. In 1855, Kansas was a territory.
As for his retirement plans, Theis said the verdict is already in, laughing he has more than 40 years of deferred maintenance projects on his home to catch up on.