Growing evidence of cancer link sparks measures to protect firefighters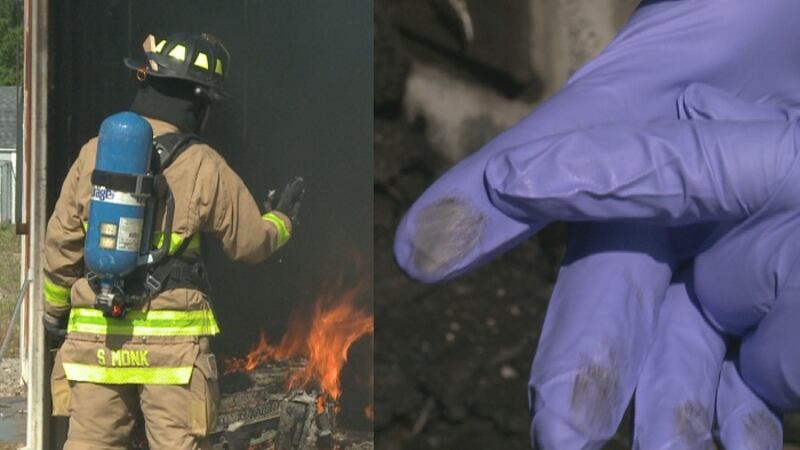 Published: May. 24, 2017 at 9:11 PM CDT
Tests have shown fires at homes filled with items made from modern-day synthetic materials burn hotter and faster than homes filled with the natural construction materials used decades ago.
The resulting flames and smoke also harbor more toxins.
Soldier Township Volunteer Firefighter Scott Monk lit a staged modern room and a so-called "legacy" room on fire for a 13 NEWS demonstration. Even though he kept a safe distance, his helmet and uniform were covered in soot.
Kansas Director of the Firefighter Cancer Support Network Tim Millspaugh says the modern room fire sent multiple toxins into the air as the flames burned through the furniture's synthetic materials.
"Today's fires are just more toxic," Millspaugh said. "The heat wears firefighters down. The heat also opens up their pores in their skin and that's the biggest problem we have - absorption of carcinogens."
Millspaugh was a firefighter for more than 30 years. He has been diagnosed with skin cancer twice and believes it came from the job.
"I had cancer where the bottom of that hood sits and gravity drains all that sweat and carcinogens to the bottom of where that hood sits and that's exactly where my skin cancer was and I got it on the top of where that boot sits, too," he said
Studies show the areas where Millspaugh developed his cancer are areas where firefighters are most vulnerable. According to the
www.iaff.org/hs/phi/state/kansas.asp?callingPage=Cancer" target="_blank">International Association of Fire Fighters
, 65% of firefighters will get cancer at some point.
More than 30 states have laws establishing a presumption that certain cancers in firefighters stem from chronic exposure. The presumption allows families to collect enhanced retirement, pension benefits, workers compensation and disability benefits. While Kansas mentions cancer in its Presumptive Disability Law, Millspaugh says the language used is ambiguous and doesn't offer enough protection.
"There are some issues, if I tell the state that I have cancer from firefighting, they are going to ask, 'Which chemical were you exposed to?' or, 'What fire caused your cancer?' - making it hard to prove," said Millspaugh.
The Soldier Township Fire Department is doing what it can. Each firefighter is outfitted with more than $10,000 in protective gear. As soon as they return from a scene, their equipment goes into a special machine for cleansing and drying. Those machines cost up to $25,000.
They can't change what's in the fires, but they can educate themselves to hopefully change their risk.
"We can't prevent them from getting exposed to this stuff over and over again," Millspaugh said. "Education, that's the biggest thing we can do to cut that 65 percent down."
For more information, you can go to the
firefightercancersupport.org/" target="_blank">Kansas Firefighter Support Network
.
You can also watch the first part of our special series by clicking on this
www.wibw.com/content/news/Unseen-Danger-Part-One-423965664.html" target="_blank">link
.