Former TV meteorologist, Mike Thompson says he's ready to serve in the Kansas Senate seat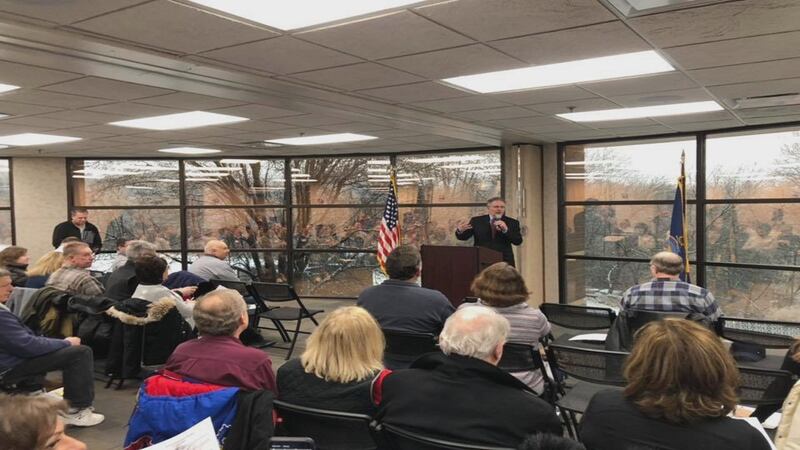 Published: Jan. 14, 2020 at 5:50 PM CST
Mike Thompson is making a big career move from starting as a TV meteorologist and he's heading into being a lawmaker.
"It's exciting, it's for me a different adventure," Mike Thompson said.
Mike Thompson served as a chief meteorologist in Kansas City until he retired in 2018.
He was chosen on Saturday to fill the District 10 seat in the Kansas Senate of Republican Mary Pilcher-Cook.
"I thought it was a good opportunity for me to use some of that additional knowledge that I wasn't able to use when i was forecasting the weather around Kansas," Thompson explained.
Thompson spent time as a meteorologist for both Channel 5, then Channel 4, for 40 years. After retiring in 2018, he says there was more to do, "the sitting Senator was wanting to retire and she approached me, we've known each other for years and decided that it would be a good opportunity for me."
"I've been interested in all sorts of issues for many years, economics, all sorts of things, other than just weather."
The vote was unanimous 46-0 as Republican precinct committee members selected Thompson to fill the vacant seat.
Thompson says he's eager to serve his community, "I'm going to be looking at some of the big issues that Kansas has. We're losing residents, education is a big problem, energy is a big concern going forward, so I really want to focus on some of those things and see what kind of recommendations I can make to help. I'm a native Kansan, so it's important to me and it's important to my family."
After years of informing the Kansas City community about weather, there is one thing he says he will miss.
"People, you know behind the scenes, all the people I've ever worked with, obviously you'll get to be very good friends with those folks so I do miss the people, there are a lot of good folks I worked with and I'll miss them a lot," he explained.
Thompson says he will not take this opportunity for granted. "I grew up in a tiny town in Southeast Kansas, I was a page in the Senate when I was in eight grade, so it feels like I've come full circle and it's kind of neat. I grew up in Burlington, Kansas and I still have family out there. It's nice to be serving them, it really is."
Mike Thompson will be officially sworn into the Kansas Senate seat on Tuesday serving the rest of Pilcher-cook's term. Thompson says he plans to run for a chance at a full four years this November.
Two other candidates - Republican state Rep. Tom Cox and Shawnee City Councilwoman Lindsey Constance, a Democrat - have said they planned to run for the seat.