Faith and family help woman 'Make Strides Against Breast Cancer'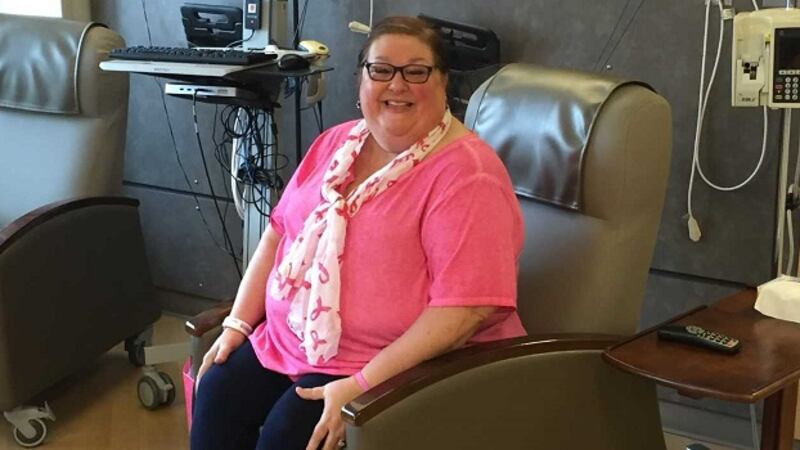 Published: Oct. 25, 2018 at 12:22 PM CDT
The Making Strides Against Breast Cancer Walk in Topeka is right around the corner, but there's no time to waste when it comes to finding a cure.
This year alone, the American Cancer Society estimates more than 266,000 U.S. women will be diagnosed with breast cancer and nearly 41,000 will die from the disease.
Marilyn Revell faces that harsh reality with a positive attitude through faith and family and that's why she's one of this year's incredible 'Portraits of Hope'.
Marilyn's doctor's visits usually start with a smile and a fist bump.
However, that wasn't the case when she first was diagnosed with metastatic breast cancer.
"[T]hat means that it's already in my bones," Marilyn pauses to take a deep breath and continues, "It has progressed passed the original lump in my breast."
That means it can't be cured - only contained.
"Nothing is growing, nothing is shrinking," Dr. Camille Adeimy told Marilyn. She receives oral chemotherapy, which is a relatively new treatment.
"It targets the breast cancer with very minimal side effects," Dr. Adeimy explains, "We are seeing remarkable outcomes."
Marilyn says since treatment, the disease hasn't progressed, and she only experiences tiredness and fatigue. So, she and husband Walter can keep up with their ten grandchildren.
Marilyn chooses to inspire others, despite the disease.
"Her attitude hasn't changed from day one," Walter said admiring his strong wife.
"There's new research and new strides being made every day," Marilyn said.
Marilyn never leaves home without a pink bracelet on each wrist and an extra in her pocket all to raise awareness and make strides against breast cancer.
"She has a very beautiful spirit," Dr. Adeimy says, "She has been optimistic since day one. I can also add that she has a very supportive family."
Marilyn says when the time comes, she'll find peace in joining her parents in heaven.
Marilyn wipes tears from eyes saying, "and tears roll down my face."
But for now, there are too many loved ones to enjoy here on earth.
"Everybody's so positive. It's been great. So, I just love every moment that I have," Marilyn said.
Regan asks, "What gets you through?"
"My faith, my family, love for my grandkids - I want to see them grow up," Marilyn says while getting choked up, "So, I'm going to fight as long as I can."
Marilyn wants you to join her in the fight Saturday, Oct. 27 at the American Cancer Society Making Strides Against Breast Cancer walk.
Registration begins at 8 a.m. on the statehouse grounds with the 5K starting an hour later, at 9:00 a.m.
If you can't make the walk, but want to help the American Cancer Society fund research, educate women about breast cancer, promote early detection and provide support to anyone facing the disease. Donate
.