Episcopal Diocese of Kansas ordains its first female bishop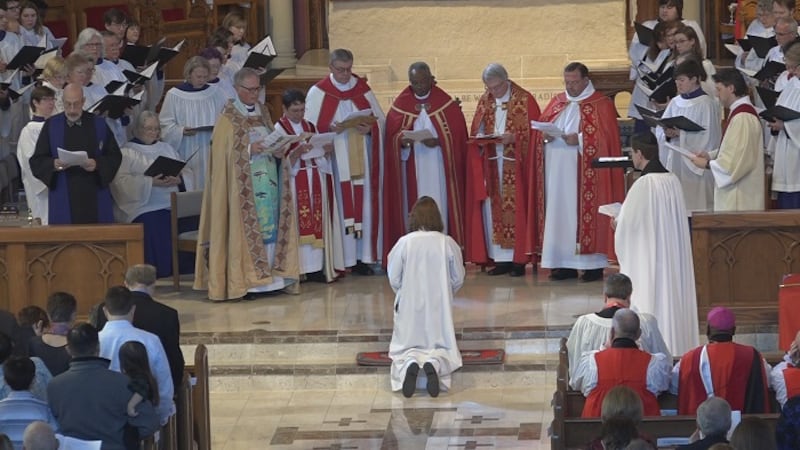 Published: Mar. 1, 2019 at 6:19 PM CST
The Episcopal Diocese of Kansas made history Saturday -- consecrating its first female bishop.
It's a sign the stained glass ceiling is breaking for women in the Episcopal Diocese of Kansas.
Reverend Cathleen Chittenden Bascom is the first woman bishop in the diocese's 160-year history and says she feels privileged to take on the role.
"Jesus used everyone," Chittenden Bascom said. "I am receiving the privilege where women before me did not get this opportunity, and as much trepidation and joy that I have in it that, I have the privilege to do it where African American people were not, gay and lesbian people were not, all those people who were not given the chance to use their gifts. I just feel so blessed."
Presiding Bishop of the Episcopal Church Rev. Michael Curry, who became known worldwide as the preacher for Meghan Markle and Prince Harry's wedding, is in town for the event. He says this type of diversity is at the heart of what Christianity is about.
"It is a cardinal value for us not because it's trendy today, but because that's what Jesus commands us to do and to be." Bishop Curry said.
They hope it can be an example of acceptance for other churches.
"I do think that Episcopalians could be a leader in this for others to just say open your gospels and read it, we're all needed," Chittenden Bascom explained.
The service of ordination and consecration for bishop-elect Chittenden Bascom started at 10:45 Saturday morning at Topeka's Grace Cathedral at 701 SW 8th Ave.
The service was live streamed on the diocese's Youtube channel, you can access that link by clicking