Topeka veteran living fullest life after serving 17 years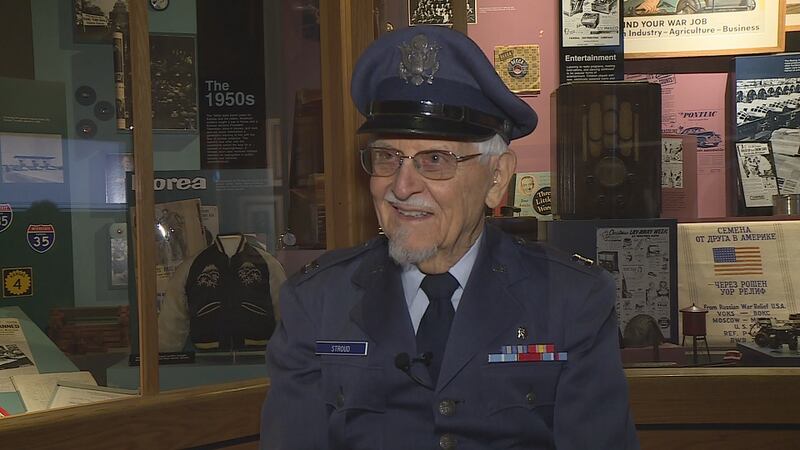 Published: Nov. 9, 2019 at 10:24 PM CST
Many may have heard of Dr. Herschel Stroud leading the Topeka Jayhawk Club pep band that sends off the basketball and football teams.
He is a proud veteran who wanted to continue making a difference in people's life even after serving for our country.
Dr. Herschel Stroud served 4 years active duty in the U.S. Navy, then 13 years in the U.S. Air Force reserved serving as an Optometry officer.
"Things like that make an indelible memory and you remember those little tid bits of transition forever," Veteran, Dr. Herschel Stroud said. "That's forever etched in my mind."
He explained a significant event that pertained a particular plane crash.
"It just so happened that the pilot of the plane was a good friend of mine." Dr. Stroud explained. "I didn't know it at the time, but when we went out to visit the crash site. I had to help pick up the remains of a good friend."
Though he witnessed traumatic events, Dr. Stroud has no regrets about serving for our country.
"It is an extremely patriotic and worthwhile privilege to be able to serve in the United States military," he emphasized. "It really is a marvelous life. The government takes care of its service members."
He says the support of his family taught him to continue serving others.
"My father died when I was 10, but my mother and the father figures that I collected after that try to teach me integrity, trustworthiness, punctuality, honesty, and always do good for somebody else, not yourself."
After serving in the military for 17 years, Dr. Stroud became a Dental Surgeon at the Topeka Gage Dental Group, then he created the first Kansas University pep band, which started in 1986.
"I'm still doing that and we welcome the Jayhawks back when they're successful in their endeavors athletically."
He has been a Jayhawk fan since the age of 15 years old. "Some say I got crimson and blue blood and there is probably some truth in that."
Dr. stroud said he hopes his impact in the community is his legacy. "I want to leave the fact that, 'he was married to a really good women, he lived a really good life and loved everyone around him."
Dr. Herschel Stroud has a perspective to live life filled with happiness.
"Well I'm 89 years old, and I'm still cooking baby," he emphasized.
He said that his life advice would be to, "look with life as a favor. It's a favor to have a life and live it well."
"Always do something for someone else, because you will receive bountiful returns for whatever you do for somebody else."