Annual pigeon race takes flight in Topeka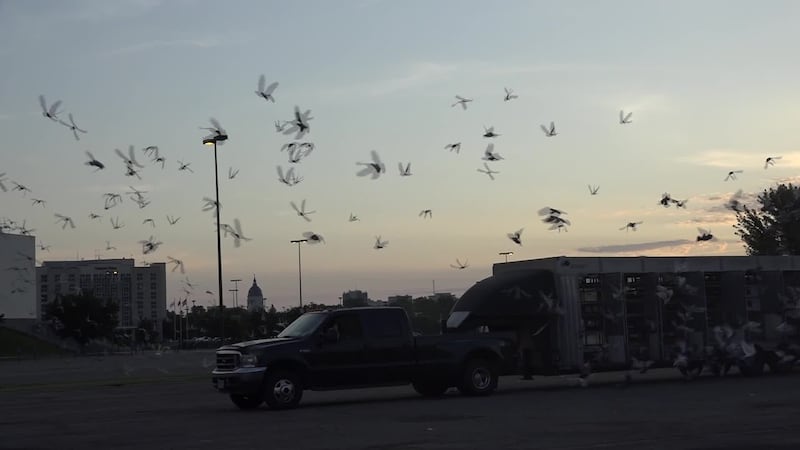 Published: Jun. 26, 2016 at 10:44 AM CDT
More than 3000 pigeons were brought to Topeka over the weekend, only to make the long journey back home.
"It gets in your blood, and it's a lot of fun you get with a bunch of guys and it's competition. It's a lot of fun, it's a great hobby," said long time pigeon racer, Jim Hansen.
Pigeon Racers travel from all over the country to compete in the 68 year running Midwest National Classic Old Bird Race, but these competitors don't seem to mind the distance.
"I'm from Mount Pleasant, Wisconsin. It's a little bit south of Milwaukee and it's 625 miles. It took me 10 hours," said Hansen.
"I'm from Burnsville we actually left from Roseville, Minnesota. It takes approximately 10 or 11 hours you know you have to take a break here and there," said pigeon driver, Tom Hart.
After the pigeons are driven to Topeka, it's time to make the same trip back- this time by flight. The goal is to make it back to the pin traveling at the highest speed.
"I've got a neighbor that lives four blocks west of me, he can get a bird before me, but I can still beat him because my bird's got to fly further. It's all broke down in yards per minute, and the bird with the best yards per minute wins."
The pigeon lofts are tracked by GPS, but after racing 41 years, Jim Hansen knows crossing the finish line is sometimes the hardest part.
"I've had birds that come home, winning pigeons. They would've won the race and they sit out there and look at me. The birds not home until it's in the loft," said Hansen.
After the birds are released the competitors load up their truck and head back home, all before sunrise.