After a 3-3 start K-State is looking for consistency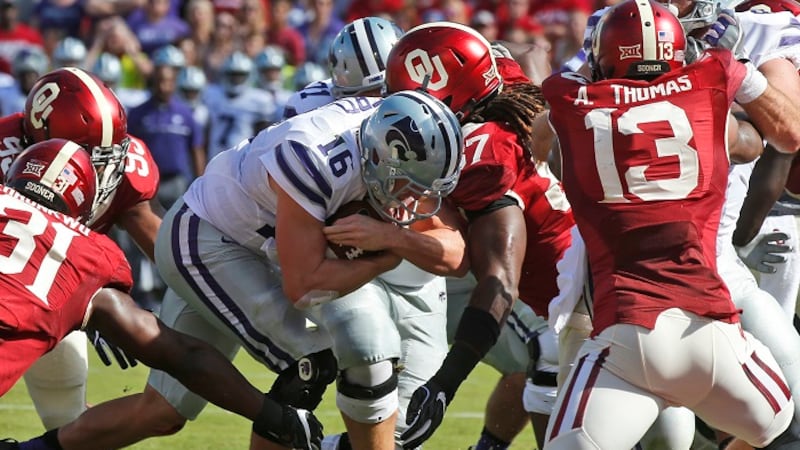 Published: Oct. 18, 2016 at 9:33 PM CDT
The K-State Wildcats sit at 3-3 after a loss to the Oklahoma Sooners last week.
As of late the Wildcats have been in a similar situation at the halfway mark of the regular season. In three out of the last four years K-State has been .500 or worse through six games.
K-State football coach Bill Snyder said they've just been too inconsistent.
"If you asked me last week I probably would have said that we are ahead of where we were at the onset after this past week's ballgame. I would say if you could take away six plays, that is still true but you cannot take them away, so obviously it is not. We were collectively not as good this past week as we have been in regards to the progress we had made previously," said Snyder.
The Wildcats started off 2016 with a 26-13 loss at #8 Stanford and then went on to win three out of their next four games.
"We've come a long way from the start of the season and we definitely still have a ways to go we've kind of had some ups and downs through the whole thing. From being productive and being efficient to we've had a few weeks where we've struggled, " said Kansas State sophomore tight end Dayton Valentine. "Overall I think we're still growing and we have a long ways to go but I think we're coming along nicely and I'm seeing a lot of guys develop really well."
"The biggest thing is coach is always stressing about tackling and again we have to do it. I know I had in the game like nine tackles but I missed three or four tackles too. It's just a matter of you have to take it to the field. I got to go wrap up and tackle the guy," said Kansas State senior defensive end Jordan Willis. "That's just what I see. It's just a matter of doing what your coaches tell you to do."
K-State hosts Texas Saturday, October 22nd at 11:00 a.m.