13 at 65: Love story, great memories of Boyles' Joyland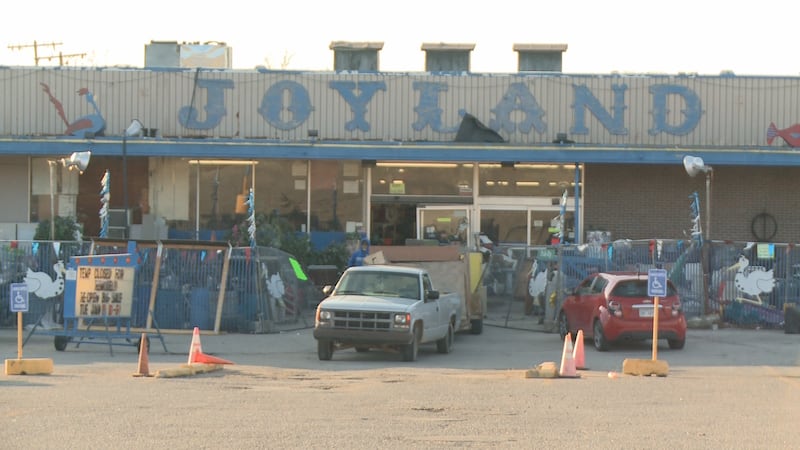 Published: Apr. 30, 2018 at 7:21 PM CDT
If you lived in Topeka for a long time, you remember the joy Jerry Boyles and his family's amusement park rides brought to everybody. Originally designed to promote the family's ice cream business, Jerry was inspired in his quest to promote by one of the most imaginative and creative dreamers in the world.
Jerry offered some of his best memories of the place that was a big part of their family history.
"We went to the National Association of Amusement Parks where I got to meet Walt Disney and we bought a train...exact replica of a Santa Fe Streamliner. I thought it was kind of interesting that they had Santa Fe railroad people lay the track for my train. We wanted a carousel because we had a little one, so I found one down in Texas."
Boyles' teen employee Nora Fegola recalls, "I ran one of the little kiddy rides - the little boat rides, you know, where the kids could ding the bell and we had the airplanes."
Jerry Boyles' explains, "working on rides in the maintenance and everything (we employed) 28 to 30 people. We let kids start working at 14 years old. I'm 83 and to this day I run into people that say, 'Jerry I used to work for you a long time ago.'
Nora was only 16, and knew the Joyland Park was practically the only place in Topeka that would give a job to a 16-year old to help them learn values, and the value of money.
"And I wanted to have my first job because I needed to save some money to purchase a car and so that's why I went to work there. I got hired only because my name was Nora - and Nora Boyles had never hired another Nora.
Keeping a close eye on the children she was responsible for in her part of the amusement park, she also cast a fleeting glance at the cute guy running the midget racers - Rick Fergola.
"My first day at work, I saw that cute guy down running the midget race cars and I went home that night and told my mother that I saw the guy was going to marry. He just wasn't going to take any notice to me...because he had a girlfriend and that just eventually changed because I wasn't going to give up. I knew I was supposed to marry him."
She did marry Rick, and were together for 47 years. It is a friendship that didn't end with Rick's passing two years ago.
"We always looked up to Charlie and Nora and Jerry for giving us our start."
And definitely changing Fergola family history as well.
"The rewards was all the kids with a smile on their face and happiness. We just loved it we love Topeka and we loved all the people," Jerry recalls. As his gas tank was running low, the businessman who's now 83, turned it into the familiar flea market shop most Topekans remember today.