13 at 65: WIBW-TV led to Royal career for engineer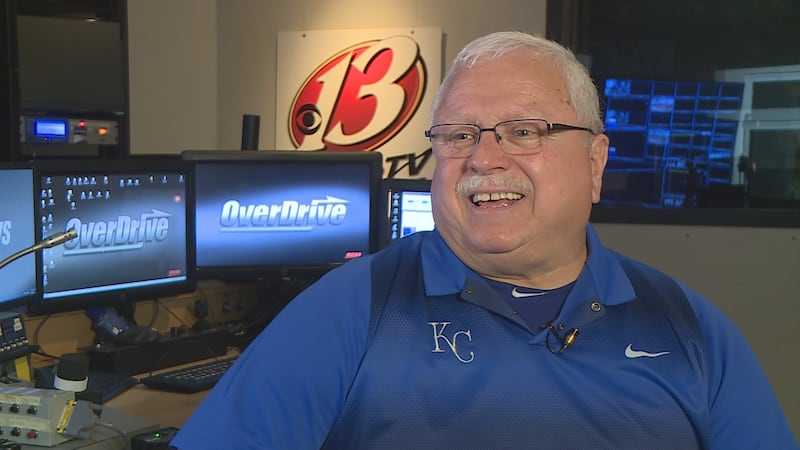 Published: Jul. 13, 2018 at 10:35 PM CDT
A chance application for a part-time job as his military career wound down led Don Free to a mentor and, eventually, a dream job in the baseball world.
Free retired last year as the producer/engineer for the Kansas City Royals. The road to the job started in 1967, when he applied for a job as a cameraman at WIBW-TV.
"They actually hired me!" Free recalls. "I went from cameraman to directing a newscast and stuff like that, and then finally asked Elmer (Gunderson) if he could train me as an engineer and he took me under his wing and taught me everything I know and what a blessing."
Gunderson was WIBW-TV's chief engineer for five decades. Free says he hit the road with Gunderson for production events around the country, including horse races in Riudoso, New Mexico.
"He made everything so easy for you," Free says. "If you didn't listen to what he said, he's not going to help you - but it was always neat that he could lead anybody and teach anybody, anything."
From WIBW, Free would become the producer/engineer for the Royals Radio Network.
"From '86 when I started with the Royals until '14 I had never done a playoff game because the Royals had never made the playoffs. But we got the Wild Card that year and played the As in Kansas City - and we were getting beat pretty bad but we kept coming back," Free said, recalling how he tried to watch as much as he could while still overseeing the production. "I can still see Salvy's double up the left-field line. That's the most vivid game that I remember. Plus in '15, Wade Davis striking out the last guy and the Royals win it. It was pretty neat. Being able to be with the guys and talk to them and fly with them and everything, it was really neat."
Free said he cherishes his time with announcers like Denny Matthews, Ryan Lafebvre, and Fred White, who also was a WIBW-TV alum.
"They're so good and they keep you interested in the game and keep it going," he said.
But Free says he'll always come back to WIBW-TV when explaining his run in the broadcast world.
"If Elmer hadn't taught me what I knew, I probably wouldn't ever have been able to do the job," he said.
Free will be inducted into the Shawnee Co. Baseball Hall of Fame in a ceremony July 18.