13 at 65: WIB, Whizzo spark memories for generations of viewers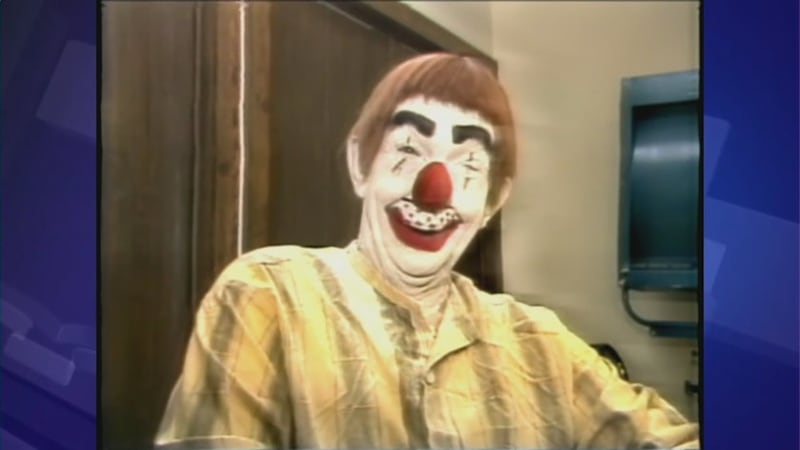 Published: Dec. 3, 2018 at 6:50 PM CST
Before acting took him to Hollywood and WKRP in Cincinnati, Gordon Jump made the jump from Fort Riley and the Army, to Kansas State University, to WIBW-TV.
In a 1983 interview, Jump recalled someone calling then general manager Thad Sandstrom on his behalf.
"(The person said), 'You can't afford to pay anybody. I got kid here who needs a job. If you can put him on the floor, we'll be right grateful.' So Thad took one look at me and said, 'Yeah, the floor's where that kid belongs!'" Jump laughed.
It was 1957. Jump did the weather and hosted a children's show as WIB the clown.
"It was kinda hard getting out of that makeup sometimes to do the weather," he said.
A piece of the show lives on in Doug Sanneman's Clay Center home. He won a bicycle from WIB's Fun Time in 1957, submitting a winning name for WIB's car.
"I got to be on TV," Sanneman said. "When I first got it, I was seven and I couldn't even reach the pedals. I had to start on the edge of the porch and ride it. The only way to get off was to crash the bike so consequently it had quite a bit of abuse."
Sanneman said he put in a lot of miles on the bike, riding up and down the country roads with his brothers.
"I used to put playing cards in the spokes so it sounded like a car," he said.
As WIB - and Jump - moved on, the bike moved to his parents' shed. But he never could part with it.
"It just had sentimental value," he said.
Those childhood memories also came to the next generation in the form of Whizzo.
Frank Wiziarde was the man behind the makeup. He grew up in his parents' traveling circus, drawing on that experience when he created Whizzo, first for a Kansas City station before bringing him to WIBW.
"I try to put Whizzo on a level equal that I am equal to my audience," Wiziarde once told WIBW-TV. "I consider Whizzo the personal property of each and every person he comes into contact with. More especially is he the personal property of a child. 'He is my Whizzo,' you'll hear the kids say."
Ann Anderson appeared on both WIB and Whizzo as a child.
"I think as kids were a little intimidated that we were in a TV station so I remember all the kids when we took pictures were like, 'Oh my gosh! Be on our best behaviors!' I didn't really think of him as being a clown. He just seemed like a personality and larger than life," Anderson said.
Whizzo's last show was in May 1987, and Wiziarde passed away that fall.
Gordon Jump passed away in 2003. As far as he went, he never forgot how WIBW gave him his start.
"I can honestly say that, through the years, WIBW has honestly tried to serve the people that have been a part of its broadcasting signal and its broadcasting area," Jump said in the 1983 interview. "I think that training, that ethic, is probably the thing that has helped me as much in my business as much as any."