13 at 65: Topekan recalls honor of hosting Presidential visit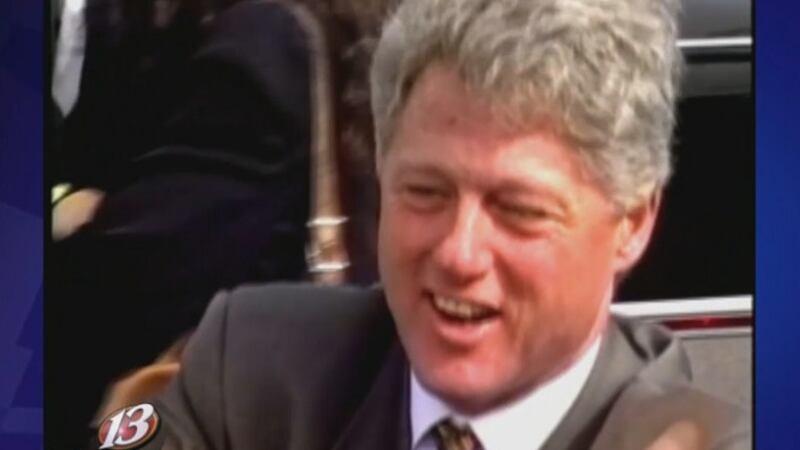 Published: Oct. 8, 2018 at 10:38 PM CDT
Topeka Foundry is a 140-year-old mainstay at 3rd and Jackson in downtown Topeka.
And of all his years at the helm, Jack Bybee will never forget the week that started Easter Sunday, 1994.
The phone call came that night.
"I'm thinking this is a joke," he recalls.
The woman on the other end of the line claimed to be with the White House. She asked if he knew President Bill Clinton was scheduled to come that week and, if not, he'd better get up to speed - because his company as mentioned as a possible location to host a round-table discussion with local business leaders.
The next day, White House staff was touring their buildings and making it official.
"They said, 'This is what we have to do. We have to build a stage and we have to get your structural department with an industrial looking setting.' Long story short, about six or eight of our people in our structural (department) worked until almost midnight two days, Tuesday and Wednesday, to get the shop all ready to go for his visit," Bybee said.
That Thursday morning, Air Force One landed at Forbes Field, and the motorcade pulled up to Bybee's business.
"He came in and I got to shake hands with the President. We gave him one of our company jackets," Bybee said.
While Bill Clinton was not the first President to visit Topeka, Bybee's experience was certainly unique. Most other Presidential trips involved more public settings.
Going way back in time, Theodore Roosevelt laid a cornerstone at the YMCA, and William Taft laid a cornerstone for the Memorial Building.
President Gerald Ford waved to the crowd as his motorcade moved through Topeka in 1975, headed for a speech on the Statehouse steps. Modern motorcades are a bit more secure - though Bybee does recall Clinton's departure.
"There was probably 250, 300 people standing (across the street) on the concrete and President Clinton got out of his car, walked across the street, and shook hands almost with everybody," Bybee recalled, saying he watched the scene unfold from his office window.
President Ronald Regan made several trips to the Capital City, including a1982 fundraiser, and a 1987 visit to Alf Landon to mark the senator's 100th birthday.
Regan's vice president and successor, President George H.W. Bush, rallied crowds at the Kansas Expocentre in 1990, supporting Gov. Mike Hayden's re-election bid. He lost to Joan Finney.
16 years later, his son, President George W. Bush flew in to support then-congressman Jim Ryun in the days before the 2006 general election. The appearance brought about 8,000 people to the Kansas Expocentre, though Ryun would lose that election to Nancy Boyda.
It was Bush's second presidential visit to Topeka. In 2004, he was guest of honor at the dedication of the Brown vs. Board of Education National Historic Site.
From Topeka, Clinton headed to a town hall meeting in Kansas City, with Topekans asking questions via a link from the WIBW-TV studio.
Looking back, Bybee, who sold Topeka Foundry earlier this year, said he was impressed with the White House staff and Secret Service.
"They were all very helpful and worked with you, but the day that the President came it was all business. You could just see on their faces they were there to protect the President," Bybee said.
He does still grin, however, about their dinner at a local steakhouse afterward.
"I thought surely they'd have picked up the tab after all we'd gone through!" he said.
Still, he says, the memories are priceless - even for a long-time Republican, giving a Democrat the spotlight.
"I was taught you respect the office of the Presidency and that's why we had the meeting," Bybee said. "It's not every day you get to host the President, Republican or Democrat. That was probably the top - saying you hosted the President."
Not far from Topeka, Regan, George W. Bush and Richard Nixon all delivered Landon Lectures at Kansas State University while President.
Barack Obama spoke in Topeka before he was a candidate, but Air Force One did land at Forbes for his visit to the University of Kansas campus in 2015.
Among First Ladies, Michelle Obama spoke to Topeka Public Schools graduates in 2014, and Laura Bush helped dedicate the Topeka and Shawnee Co. Public Library in 2002.