13 at 65: The rise, fall, and rebirth of Downtown Topeka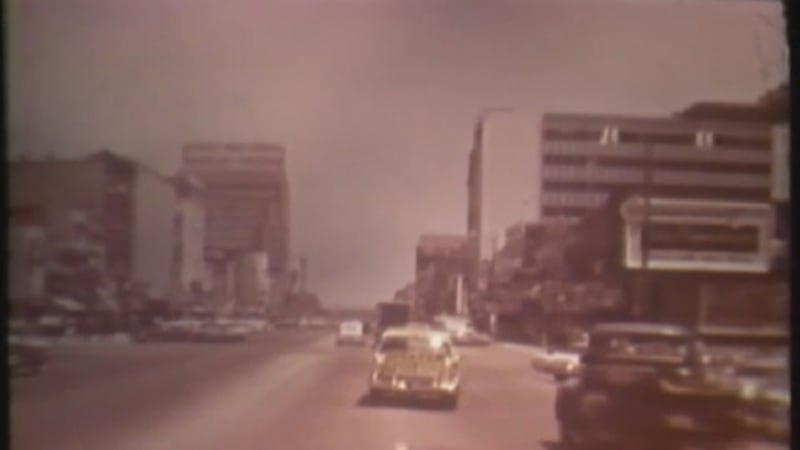 Published: Sep. 24, 2018 at 6:27 PM CDT
A 1965 video from the Topeka Chamber of Commerce boasts a downtown "with streets as wide as a river" and "big downtown hotels."
It's the downtown Vince Frye saw when he moved to Topeka out of college in 1971.
"We had restaurants; we had movie theaters; we had men's and women's clothing stores," Frye said. "It was where everybody wanted to go."
Frye, who's spent the past six years as director of Downtown Topeka, Inc., stayed in Topeka, building a career that included 24 years in sales at WIBW-TV. As many of those businesses became his clients, he started to see the shift.
"White Lakes Mall was built, and a lot of the retail migrated to White Lakes, and then of course after White Lakes, West Ridge," Frye said.
By the time local businessman Cody Foster moved to Topeka for college in 1995, it was on the decline.
"(We) didn't come down here hardly at all," Foster said.
It wasn't that local leaders weren't paying attention. People floated ideas, and leaders even developed a downtown master plan in 2000.
"Their thought was, by 2015, we would have all kinds of retail and dining down here, many residential facilities would be built, some of our alleys would be places where people went and had music festivals, the river would be built," Frye said of the plan.
It didn't quite happen, but Frye says the city finally is on the right track. While the plan pretty much sat idle, in 2008, the Heartland Visioning process blew off the dust.
The community held idea session and, in 2012, supporters cheered a city council vote to pay for an infrastructure rebuild. By 2013, the Downtown Topeka Foundation launched a fundraising campaign for other amenities, and, a year later, construction was underway.
"This is a renaissance for our city," then-mayor Larry Wolgast declared at the groundbreaking.
Frye says the movement continued.
"That $1.8 million is now $4.4 million that we've raised," he said. "The pocket parks, statues, the fountains - all those upgrades you see now - gave a lot of confidence to local investors that downtown was on the move."
That final piece of attracting investors is what then brought people like Frye to people like Foster.
"Unlike maybe others, I don't maybe know the failed attempts that have been done in the past quite as well," Foster said.
Foster and his business partners were building their own company - Advisors Excel - during those early downtown revitalization attempts, so when Frye met with him in 2015, Foster saw momentum.
"I like real estate, I always kinda have, and it gave me the idea of, 'Maybe I'll start investing there,'" Foster said.
However, he admits he's not sure he envisioned the large structure stretching into the skies at the corner of 9th and S. Kansas Ave. The Cyrus Hotel is the largest of three projects Foster and his downtown development partners will open this year along S. Kansas Ave. The Pennant restaurant started serving in March; Iron Rail Brewing is slated to open in November; and the hotel launches in December.
The hotel is the project many have called the centerpiece of downtown's rebirth.
"From day one, we said we want it to be an accelerator," Foster said. "It being referred to as the centerpiece - I guess we always thought of more of being the accelerator to have other things happen down here. With The Pennant being right here, I think if it's shown anything, it's that people do want to come downtown."
Perhaps selfishly for Foster, sparking downtown's revitalization also answers a concern he heard when recruiting younger workers for his growing company.
"When talking to them, the one thing they consistently come up with is these ideas around quality of life and quality of place," he said.
It took a bit longer than the 2000 master plan envisioned, but music and festivals are back downtown, with an event plaza in the works. Some vacant spaces remain, and riverfront plans remain early phases.
But Frye and Foster are excited for the next chapter.
"They all talk about what downtown Topeka used to be. I think it's got that potential again," Foster said.
Frye agrees. He says local leaders will begin work next year on a new downtown master plan, looking another 10 to 15 years down the road.
"The downtown represents a community's pride and prosperity - and we're going to have something that we're all very proud of," he said.