13 at 65: Spirit of Kansas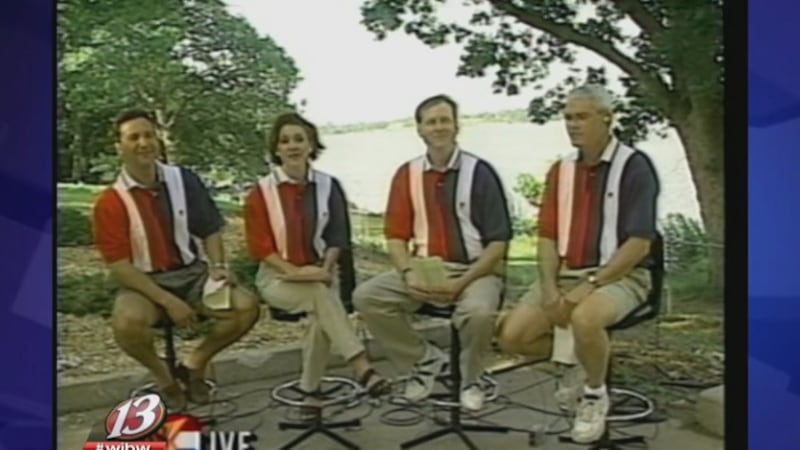 Published: Jul. 2, 2018 at 7:28 PM CDT
Fireworks and fun are a tradition dating back decades in Topeka.
This year marks 22 years that those fireworks have soared into the skies over Lake Shawnee, and the 21st year for the Spirit of Kansas Festival to shine alongside them.
"I have not missed one of these," recalls Shawnee Co. Parks and Recreation deputy Director Randy Luebbe. "They get better every year."
The first year for the fireworks was 1997. Luebe recalls they had a couple months notice that they could no longer be fired off from the Washburn University campus, long-time home of the celebration known as Go Forth.
Luebe says the only other time prior they found record of the lake hosting the fireworks was 1976 - the bicentennial year. All accounts recapped the problems with traffic, so Luebe says they crafted a huge plan and charged a fee. Volunteers hauled out the lawnchairs and prepared for the crowds at 11 a.m. that day.
"I think it was six hours before they parked their first car!" Luebe laughs.
They learned from the experience, he said, and are happy sponsorships now allow for free parking.
"We worked a lot of hours with emergency management, the Sheriff's Department, AMR, Topeka Police, our park police to devise a traffic plan to get the people out here as quick as possible. Still, the quickest way is to use the free bus shuttle we have," he said.
In 1998, the festival followed, and Spirit of Kansas was born. WIBW-TV signing on as the sponsor that year and every year since, joining what's now a tradition for many.
"A lot of families now plan their Fourth of July event out here at Lake Shawnee," Luebe said. "They come in early morning and basically stay all day. They have a family picnic and they try to come out to get the best spots possible. You'll see 6:30 in the morning some people already at their spot!"
Over the years, the event has grown into a day packed with fun.
"We have the ski show, the car show, we have the craft festival starting in the morning. One of the main things we've done recently is add the blues festival. Topeka Blues Society has taken that and has just run with it. They do a fabulous job," Luebe said.
But the spirit nearly faded. The summer after 9-11, with the economy struggling, the county simply couldn't afford it, and reached out to local businesses for help.
John Dicus, CEO of Capitol Federal®, said he didn't hesitate when then county commissioner Ted Ensley made his pitch.
"Having worked with some people who were in the World Trade Centers when they went down - their companies were.... Fortunately, with our foundation we were in a place that we could step up and be a part of it and save the fireworks," he said. "There's nothing more American than the fireworks on the Fourth of July, so it was something we were excited about being able to do and have stayed involved ever since."
Thanks to the continued involvement of sponsors like Capitol Federal®, the Spirit of Kansas remains free for families to enjoy.
"It's a way to bring the community together," Dicus said. "Being able to do this and all the events without any cost. It's a fun day to be able to enjoy summer, be able to enjoy family and be able to celebrate our nation's birthday."
Wednesday, July 4th
Lake Shawnee
Reynolds Lodge/Tinman Circle
9 a.m. to 2:30 p.m. - Car show
10 a.m. to 10 p.m. - Blues Festival
11 a.m. to 7:30 p.m. - Food vendors, arts & crafts vendors
6:30 to 7:45 p.m. - Waterski show (best viewing Tinman north shore)
10 p.m. - Fireworks
6 p.m. - FREE Topeka Metro shuttle begins from Reuger Sports Complex, 2801 S. Kansas Ave.