13 at 65: Manhattan flooded with memories of 1993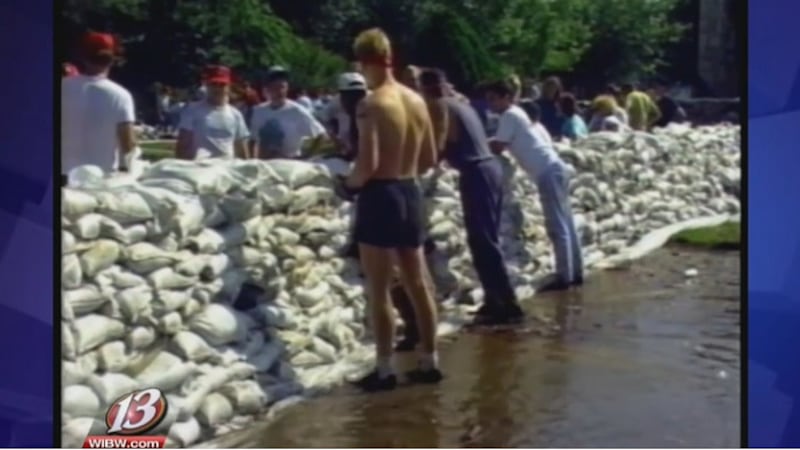 Published: Jul. 30, 2018 at 6:33 PM CDT
Timothy Coltharp recalls becoming upset as a seven-year-old, on the first trip to see his family's new home.
"I remember sitting at the bottom of the stairs, watching my dad go around the corner, looking through the basement through waist-high water and I was so angry I couldn't go swim in the indoor pool like he was!"
There was no indoor pool. The family rode in on a fan boat through the flood water that inundated Manhattan's Dix addition during the 1993 floods.
"I didn't understand how extreme the situation was," Coltharp said.
Pat Collins was two years into the job of Riley Co. Emergency Management Director when the floods hit - a position he still holds today. The area south of Wildcat Creek along South Manhattan Avenue went under first as the Kansas River overflowed its banks.
"We launched a pontoon from (the S. Manhattan Ave.) bridge to go out and see where the flooding was, and what was impacted and what was devastated," Collins recalls. "Around the 17th (of July), we started really scrambling because we knew the lake was filling up - both lakes in the area, some of the other lakes out west had already filled up - and we just didn't have anyplace to go with water."
At WIBW-TV, reporter Mike Matson was among the staff preparing for long-term coverage.
"Over the days and weeks, it became pretty clear this was going to be a major natural disaster for a good chunk of Kansas," Matson said.
As rain kept falling, levels kept rising - and everyone waited for the next shoe to drop.
It would come from Tuttle Creek Reservoir. Brian McNulty is the current operations manager at Tuttle for the U.S. Army Corps of Engineers. In 1993, he was monitoring the flooding and its response from the Corps' Kansas City regional office.
McNulty said, in normal conditions, decisions to release water from a reservoir are based on what's happening downstream. But 1993 was no ordinary year.
"Once that lake filled up, the decision to release water from it no longer rests with the downstream conditions but with what's coming into the lakes," he explained.
July 23, 1993, with the lake 63 feet above normal, the Army Corps of Engineers opened all 18 flood gates at Tuttle, releasing approximately 27 million gallons of water per minute.
McNulty saw it.
"The sound is what sticks with you - how much noise that water makes when it comes through the spill way," he said. "(It was) just a dull roar, and the ground, if you felt, it kind of shook the ground."
It remains the first and only time Tuttle's gates were raised to facilitate a faster release - and even that was less than the rate it continued to flow in.
The decision was not made lightly, as it would have devastating consequences in the Dix addition.
"We knew we were going to flood people downstream," McNulty said, "but we already had people upstream that were flooded."
People raced to build a wall of sand to hold back a wall of water from the Big Blue River.
"I can remember one visual of a line of people handing sandbags to each other," Matson said. "People who were underwater - literally - relied on help from neighbors and friends and the whole community pitched together."
A local shelter filled with residents who'd been chased from their homes by the floods. Every day, Collins and other emergency officials would take a look from above.
"We would go back to the shelter every evening and share that video with people so they could see what was occurring with their house," he said.
They'd also do a daily walk of the levees. While Collins said they did have a few "sand boils" develop - areas where the ground was starting to liquefy, those were treated and all the federal levees ultimately held.
"A lot of people were counting on the levee," Collins said.
Still, the emergency operations center remained open for 25 days. It would take years for the affected area of Manhattan to recover, and would leave a lifetime of lessons.
"We learned that we need to share information with the people living in the area and say, 'Hey, your property could flood,'" Collins said. "I think we're a lot better prepared."
McNulty said technological advances also take a lot of the questions out of issuing those warnings. In 1993, it could take several weeks to know exactly who might be impacted and when.
"Now, with computer and technology and remote sensing from airplanes that maps the ground, we can do a lot of that modeling in almost real time," he said.
Riley County used state and federal grants to buy and demolish, or relocate some 500 homes from the floodplain after the floods. They also enacted new restrictions on development to offset flooding risks.
The Dix addition remains, with Coltharp's parents among those opting to rebuild and stay in their home.
Today, he feels blessed to be raising his own family in the house as well.
"It means a lot," he said, "so I I don't really want to get rid of it."