13 at 65: Great Overland Station saved from the ruins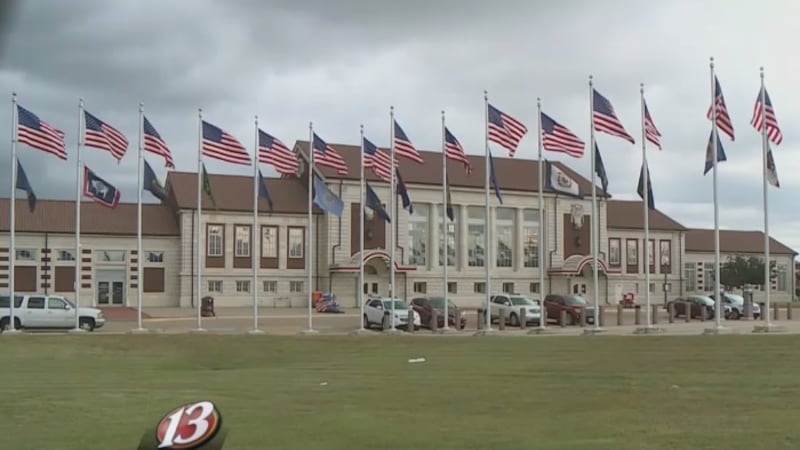 Published: Oct. 1, 2018 at 6:29 PM CDT
It can be hard to believe that the majestic landmark standing north of the Kansas River in Topeka was nearly lost first to fire, then to a wrecking ball.
Railroad Heritage, Inc., the organization that oversees Topeka's Railroad Days event, was already talking to Union Pacific about perhaps taking over their former depot when a massive fire struck in February 1992.
"(It was a) big, sinking feeling," Railroad Heritage board chairman Bob St. John recalls of his reaction when he heard of the fire.
13 NEWS reports about the fire described flames towering 60 feet towered over the abandoned building. It last welcomed passengers in 1971. UP converted it into office space, but those closed in 1988, and the building was abandoned.
St. John said his organization took a hard look at what was left.
"The west central wing of the building was completely burned out. It was just open to the sky," he said. "Fortunately, the firewalls, more or less, protected the main waiting room. We understand the railroad was almost within days of moving to be able to demolish the building."
Instead, Railroad Heritage convinced Union Pacific to give them time to see if the depot could be saved. They hired architects and engineers, secured a federal grant, then, in 1996, St. John invited Max Prosser and Beth Fager for a tour.
"The place was terrible," recalls Prosser, who'd recently retired from Santa Fe. "But in my mind it had some possibilities."
Fager agrees, the building was "a mess" when she first saw it. But that was just the surface.
"It had great bones. I mean, you could just still see the gorgeous building it used to be," she said.
Fager and Prosser signed on to lead fundraising efforts and, in 1998, went public with the campaign to restore what would be the Great Overland Station.
Union Pacific donated the building and surrounding land, but it would take $2.5 million just to get a roof, and shore up the structure, and another $2.5 million to bring back its original 1927 grandeur, guided by old photos and company archives.
"Union Pacific had pretty good records on this building and when it came to restoring some of the painting, the ceiling for instance, they had some good records plus some of the artisans got up there and chipped off some of the old paint and really got down to the original colors," Prosser said. "When that ceiling was redone, this room was filled with scaffolding and those artists, the painters, would actually be pretty much on their back up their recreating the colors and designs in that ceiling. It was a big job. Some of the plaster work around here was done by a studio out of New York."
A final phase added an outdoor plaza and All Veterans Memorial. With the final price tag at just over $7 million, the Great Overland Station opened to the public in 2004. Today, it hosts an average 140 events a year, and welcomes visitors to its museum and rotating exhibits.
Bette Allen, GOS chief operating officer, said some of her favorite visitors are World War II widows, sharing how the station is exactly as they remember when they saw their husbands off to war. The visits, she said, often get emotional, especially for those whose husbands did not return.
The history is punctuated by how it continues today, with some 80 trains rolling along the tracks outside it doors each day.
"The sound of the train, and so close to the station - you can almost feel the building shake," Allen said. "Kids love it. They run to the windows and watch the train....It's a real train and you're at a train depot!"
Fager says she is proud of what the building adds to the community.
"So much of Topeka's heritage is based on the railroads," she said. "I think it's important just for our community to have that history saved and represented, a place where the young people can come and learn about it."
"The idea was to restore it to original conditions and make it a place where people could step back to 1927," Prosser said. "It wouldn't have been right to do it any other way."
All agree, the Great Overland Station is more than a building.
"It's a grand space which I think gives us a sense of what we can do as a community if we put our minds to it," St. John said.
The Great Overland Station museum is open from 10 a.m. to 4 p.m., Tuesday through Saturday. Adult admission is $6, $5 for seniors, $2 for children ages 3-12 (2 and under are free), and $1 for military with ID.