13 at 65: Former sports anchor still Sharpe on the call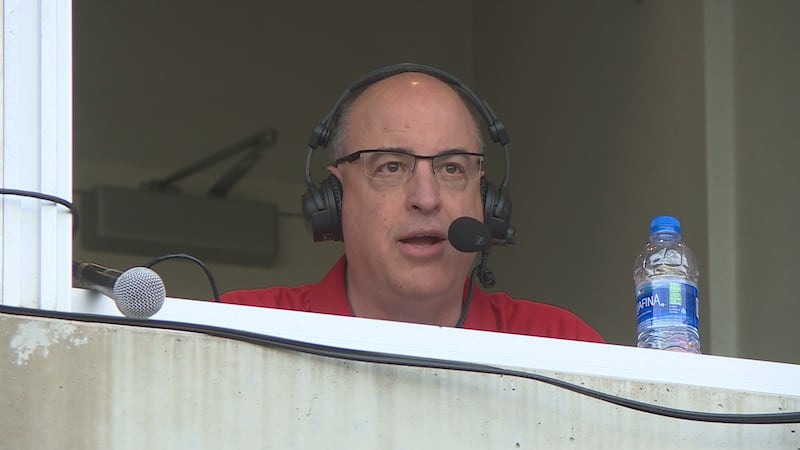 Published: May. 7, 2018 at 6:23 PM CDT
On a sunny April evening in Manhattan, fans clad in purple stopped to shake hands with a man wearing red.
After all, Greg Sharpe spent years as one of the Kansas State Wildcats biggest cheerleaders.
Sharpe, the current Voice of the Nebraska Cornhuskers for baseball and football, is the former Voice of the Wildcats and WIBW-TV sports anchor.
"I was an intern in 1986 for Ron Paradis, the sports director, and was there for 10 years doing off and on bits for radio and television and then being the Voice of the Wildcats and jumped completely to the radio side but my first 10 years were with the television side and loved every minute of it," Sharpe recalls of his time in Topeka broadcasting.
He's been Lincoln for 10 years. His April trip to Manhattan came when the Wildcats hosted the Huskers in baseball at Tointon Family Stadium.
"It's better that we're not in the same league," Sharpe laughed. "Those first couple of years when Nebraska was still in the Big 12, it was uncomfortable at times. Now, it's not so bad. I love coming back to Manhattan, calling baseball games here. I came back for a football game last fall. (I) loved K-States run through the (NCAA basketball) tournament - had a great time. We had little watch parties at my house for the K-State games in the NCAA tournament."
At the heart of it all, though, Sharpe credits his time at WIBW.
"It was my jumping point. I learned so much, made so many great friends," he said. "When you have to put your hands and get your hands dirty doing everything from carrying a camera, editing tape, putting together the stories, making the calls - I think that's the basis of this business and that was an incredible experience to learn everything I needed to have to go on and better my life."
As for his most memorable experiences, Sharpe says it's tough to pick just one. He recalls working at the station during KU's 1988 NCAA Championship, then being on the road to cover the 1991 Final Four.
Most of all, he remembers all the colleagues he worked alongside.
"It's unbelievable the veins of alumni that branched out from WIBW across the country that I run into today and everybody speaks so highly of working at Channel 13," he said.