13 at 65: News director blends old school, next generation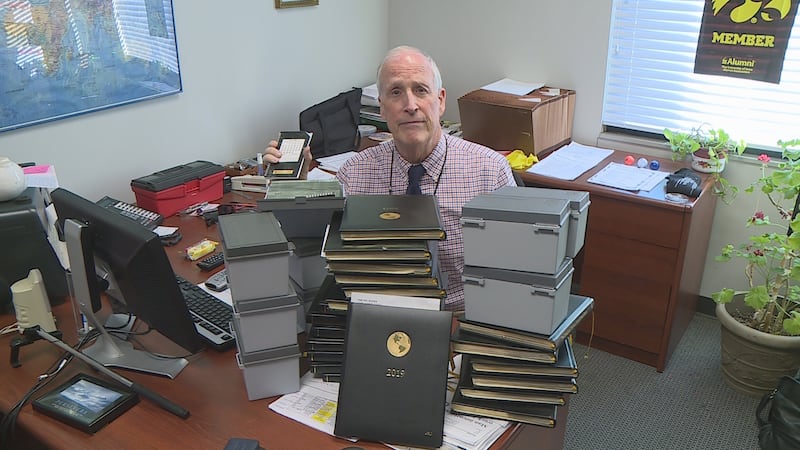 Published: Nov. 13, 2018 at 8:08 PM CST
The news director's hub in the WIBW-TV newsroom is a dichotomy of computer monitors scrolling continuously updated social medial feeds alongside white boards and day planners filled with scrawled notes and assignments.
It suits long-time news director Jon Janes perfectly.
"When we have an election or presidential visit, I put it all on the big white board and that's how I look up and keep track (that) this is what we've got going on," he said. "This is my Power Point."
Same for the day planners. One for each of his 19 years leading 13 NEWS is stacked in his office. He'll begin the planner for year number 20 soon.
The reporters he hires now have grown up with the internet and smart phones.
"I get a big kick out of being the news manager and looking at the kids that we get in that are 21, 22 years old and they're with us for two or three years, and then they go off to bigger markets and credit WIBW with a lot of their learning," Janes said.
Janes counts the team coverage of events such as elections and VIP visits among the most intense days in the newsroom. Other big events include the NCAA Tournaments, when crews hit the road to cover local teams.
A memorable day he'd perhaps rather forget happened in May 2012. A man upset because he felt his story was being ignored broke out a glass door and assaulted several employees. Janes was punched, and two colleagues were stabbed in the effort to subdue the suspect.
"We made national news for that but that was not the way I wanted to make national news, that's for sure," he said.
As he prepares to turn the first page on a new, blank year, Janes has no plans to stop adding to his stack.
I get all these (people) saying, 'Why don't you retire?' and I say, well, I'm a lousy golfer - I'm a horrible golfer, and I don't have a lot of hobbies," he said. "As long as I can get along with people that I could be their grandpa and have some fun with it, I'm going to stick with it for a while."