13 at 65: Former sports anchors worked to live up to legacy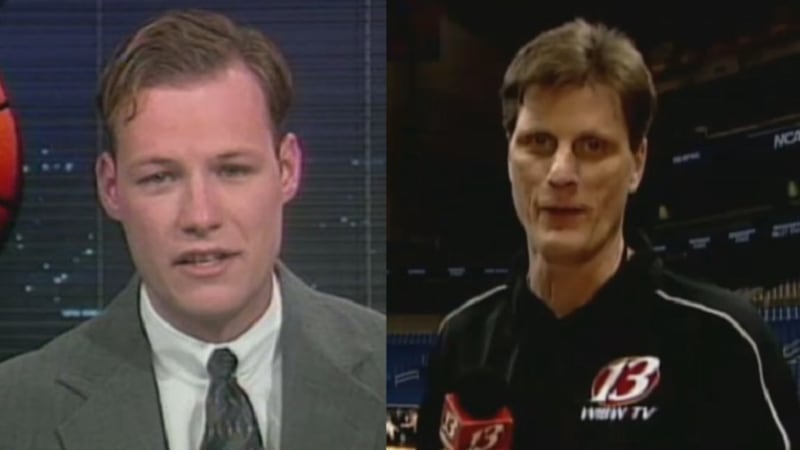 Published: Oct. 29, 2018 at 6:28 PM CDT
The Friday night lights and the athletes who toiled outside the spotlight are tops in the minds of Mark Ewing and Jason Lamb as they recount their favorite moments covering sports at WIBW-TV.
And both agree the job came with the knowledge they worked in the shadows of giants who came before them.
Lamb worked at WIBW from 1993 to 1997 as a sports reporter and weekend sports anchor. He's held a similar position at WDAF-Fox4 in Kansas City for nearly 17 years.
"I was working with the best. I was working with Ron Paradis and Greg Sharpe and I learned so many things from both of those guys," Lamb recalls. "I remember Greg Sharpe taking me out back, putting a camera on my shoulder for the first time, pointing it out a tree and telling me how to shoot."
Ewing, who served as WIBW's sports director from 1998 to 2008, worked many years producing local sports for Cox Communications and is now a financial adviser with Edward Jones in Manhattan.
"When I came (to WIBW), the bar was already really high," he said. "I had to live up to the expectations of those that were held by (voice of the Royals) Fred White and (voice of the Jayhawks) Max Falkenstein. All of us who have sat in that chair over the years have realized that really we have to live up to those."
As for the memories, Lamb's favorite moments stem from the unique way he was assigned to cover high school football.
"Going out in what I called the Lamb Chopper; getting in the 13 helicopter and flying all over northeast Kansas from Salina to Hiawatha to B and B Baileyville and Manhattan and just everywhere in between and landing and seeing how the crowds would get so excited to see Channel 13 show up and covering those high school football games - that is still something I'm passionate about today," he said.
Ewing's most memorable moments include seeing K-State win the Big 12 football championship at Arrowhead Stadium in 2003 and the 2003 KU national championship, including Mario Chalmers' shot to send the game into overtime.
But, he says, there was more.
"What I remember about WIBW-TV is well beyond those big things that made the headlines. I did hundreds of stories on people from 8 to 80 in all kinds of sports and all types of genders who were very successful at what they did," Ewing said.
Both say they are proud to be part of the WIBW family.
"It's a legacy station and and it's something that I'm super proud of - to say that I worked there," Lamb said.
"People who work here put an immense amount of passion into what they do," Ewing said. "They really care about the people that they're covering. And to me that's the big thing about WIBW-TV that separates it from the rest."