13 at 65: WIBW launches Holt from Statehouse to the Silver Circle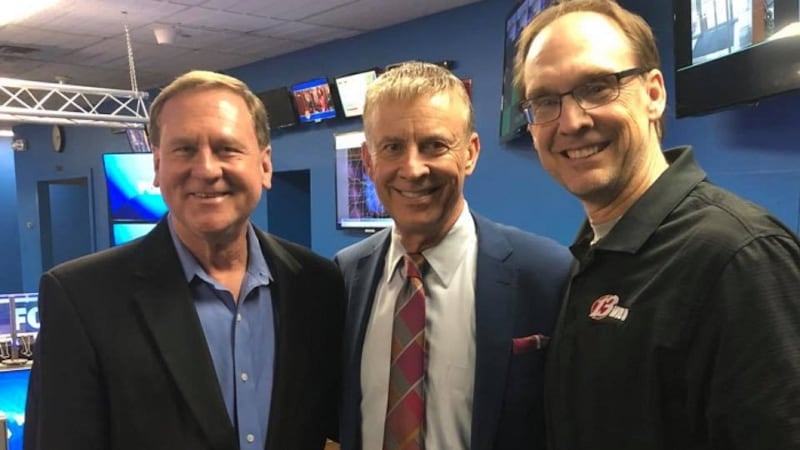 Published: Oct. 19, 2018 at 11:18 PM CDT
From a summer intern to the EMMYs Silver Circle, John Holt's journey through the broadcasting industry began at WIBW-TV.
Holt came to the Topeka television station as a summer intern in 1980, his senior year at KU. He remained while the attended law school, becoming anchor of the 10 p.m. news in his third year, remaining until 1987.
"I got a head start," he said. "It was a terrific experience because you could sit in a classroom and learn how to write and report but you don't really learn it until you're out there doing it and WIBW gave me a chance to do that and a very early age."
Holt grew up in Great Bend, and recalled how WIBW reporter Walt Riker gave him a chance to serve as his photographer covering flooding in Great Bend, which happened to be Holt's hometown.
"My neighborhood, my folks were flooded out," Holt said. "We were given a tour and I'm waving at my parents and shooting video of our house. It was the weirdest and most surreal thing I've ever covered. A truly life-changing event for my family and all the people I knew around there. I will always be grateful for Walt saying, "I want John to go with me - that's his hometown.'"
Holt also enjoyed covering politics and the Statehouse in the Capital City, as well as the severe storms and tornadoes that came with living in the Midwest.
"It was just a great training ground," he said. "I will always be grateful for that experience and have great memories of my days on Menninger Hill and that old building...man, when it burned, it was like a piece of my soul was gone. The things I learned there I still use today."
Holt recently was inducted into the Silver Circle for the Mid-America region of the EMMYs. The honor recognizes those who've made significant contributions to broadcasting.