Chief Photographer
Topeka, Kan.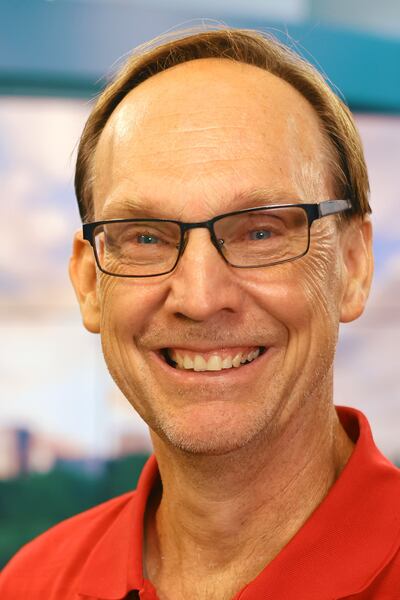 Hi, I'm Doug Brown, Chief Photographer at WIBW. I've been fortunate to work at WIBW since 1992.
I grew up just outside Topeka, near the town of Grantville and graduated from Perry Lecompton High School. From there, it was off to Washburn University, where I spent a couple years playing basketball while earning my degree in mass media.
Every day since landing the job at WIBW has been an adventure. One day, you're walking the halls of the Statehouse; the next you're on the set of a soap opera in New York. In fall, you spend Friday nights on the sidelines of high school football games; one spring, I was fortunate enough to cover a Final Four.
I'm married to someone a few of you might know - news anchor Melissa Brunner. While she goes on about her love of the Packers, I've taught her to cheer for the Chiefs and Royals! We share our home with our zoo of cats and dogs, and proudly brag about our nieces and nephews. In addition to spending time with them, you'll find us working in the yard or going for a run. I also try to find time to tinker with my favorite toys - a 1949 Ford pickup and a 1939 Plymouth coupe.
The best part about my job is the people - I've met some of the most amazing, inspiring people over the years and am looking forward to meeting many more and sharing their stories with you.
Updated: May. 3, 2022 at 5:51 PM CDT
|
By
Bryan Grabauskas
and
Doug Brown
Rosemary says Soldier Grill acts as a kind of community center, especially for a small town that doesn't have one.
Updated: Aug. 9, 2021 at 10:55 PM CDT
|
By
Melissa Brunner
and
Doug Brown
In the midst of a 10-state tour, the crew of the Big Boy 4014 steam locomotive doesn't tire of waving and smiling to the crowds who gather to see this piece of history.
Updated: Aug. 4, 2021 at 5:03 PM CDT
|
By
Isaac French
and
Doug Brown
Jessica Cox has been traveling the country as a motivational speaker for fifteen years, speaking with others who have disabilities.