Tuesday forecast: Cool and breezy
Next precipitation chance Saturday into Sunday morning
Published: Nov. 21, 2023 at 4:09 AM CST
|
Updated: Nov. 21, 2023 at 11:32 AM CST
TOPEKA, Kan. (WIBW) - After 2 days of much needed rainfall where many spots received 0.50″-1.50″, a dry weather pattern will set up
through Friday. Highs will be in the 40s and 50s through Thanksgiving day before a cold front keeps highs in the 40s and possible 30s to wrap up the holiday weekend Friday through Sunday.
Taking Action:
If you're traveling outside of northeast KS, watch the video for a quick update on the national weather forecast through Sunday. For more specific details and of course updates check with a local TV station wherever your final destination might be for the holidays or check the forecast on weather.gov

If you are sticking around northeast KS or returning to the WIBW viewing area by Sunday, keep updated on the latest forecast here with a possible snow chance Saturday night. Way too far out for specific details including snowfall totals but it is certainly something that could create hazardous roads on Sunday especially out toward central KS.
While minimal warming is expected today thanks to a northwesterly wind continuing to usher in colder air, at least there will be afternoon sun. Tomorrow looks to be the pick day of the week with the nicest day as Thanksgiving will be slightly cool and depending on the speed of a cold front could even have a wide range in highs with the coolest weather near the Nebraska border.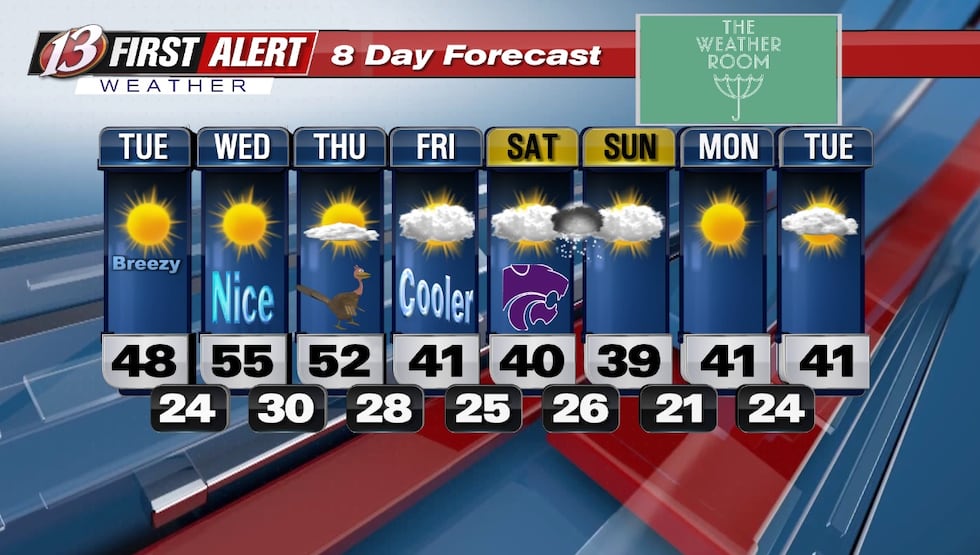 This Afternoon: Sunny. Highs in the mid-upper 40s. Winds NW 15-25, gusts around 35 mph.
Tonight: Clear. Lows in the mid 20s. Winds NW around 5 mph.
Tomorrow: Sunny. Highs will range from low-mid 50s east of HWY 75 to upper 50s out toward central KS. Winds SW 5-10 mph.
For Thanksgiving, highs could range anywhere from upper 40s north to mid 50s near I-35 with clouds increasing late. This will set up more clouds than sun Friday through Sunday to wrap up the holiday weekend and keep temperatures on the chilly side.
Precipitation could exist anytime from Saturday afternoon to Sunday morning and while most of it may end up being snow, some rain may mix in if it begins early enough Saturday or Saturday evening. Again too far out to get specific as the track of the storm system is subject to change so at this time it's just about having an awareness of the possibility, not getting too concerned about the details.
Copyright 2023 WIBW. All rights reserved.