Eagles take down Chiefs in Super Bowl 57 rematch at Arrowhead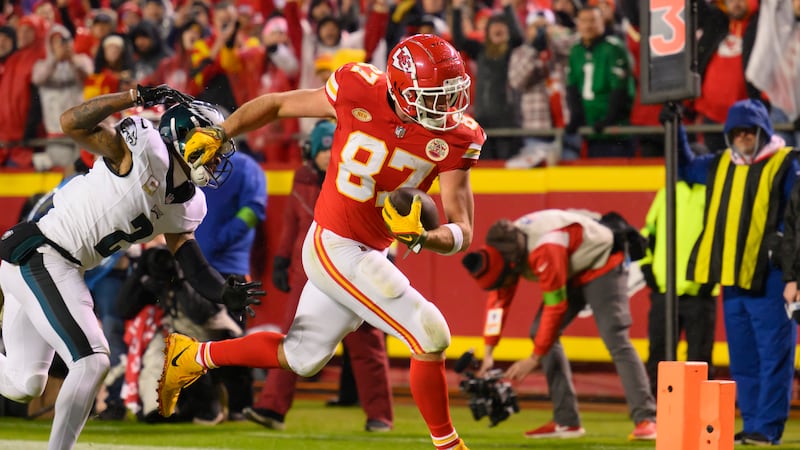 Published: Nov. 20, 2023 at 10:19 PM CST
KANSAS CITY, MO. (WIBW) - In a Super Bowl 57 rematch on Monday Night Football, the Kansas City Chiefs dropped a close one to the Philadelphia Eagles 21-17 at Arrowhead Stadium.
Kansas City got on the board first. Patrick Mahomes scrambled under pressure, and managed to find an open Justin Watson in the endzone for a 7-0 lead midway through the first quarter.
Philadelphia responded a few minutes later. D'Andre Swift ran in a 4-yard score to tie it up at 7-7 just before the end of the first quarter.
KC managed to take a 10-point lead by halftime. Travis Kelce, who had been silent for much of the first half, snuck in a 4-yard touchdown pass from Mahomes to make it 14-7.
A 43-yard field goal in the final second of the first half made it a 17-7 ball game at the break.
The Eagles' defense shut the Chiefs out for the third quarter, while the offense got to work to try and close the deficit.
Jalen Hurts posted a 10-yard rushing touchdown with 4:05 to go in the third, making it 17-14. That score made Hurts the quarterback with the most rushing TDs in his first four seasons, passing Cam Newton for the league record.
Early in the fourth, as Kansas City drove down the field, Philly forced a fumble by Travis Kelce, and recovered it. But the offense couldn't make anything of the possession, so it was punted back to KC, who didn't make anything of that possession either.
The Eagles eventually made their way down to the 1-yard line, and did what no team has been able to stop yet this season: the Brotherly Shove. Philly took a 21-17 lead with 6:20 to go in the game.
Kansas City's offense wasn't able to respond in time, dropping the game 21-17.
The Chiefs, now 7-3 on the season, will be on the road next. They'll head to Las Vegas to take on the Raiders on Sunday, November 26th at 3:25 p.m.
Copyright 2023 WIBW. All rights reserved.