In the Family: Shawnee Co. educator named Counselor of the Year decades after mom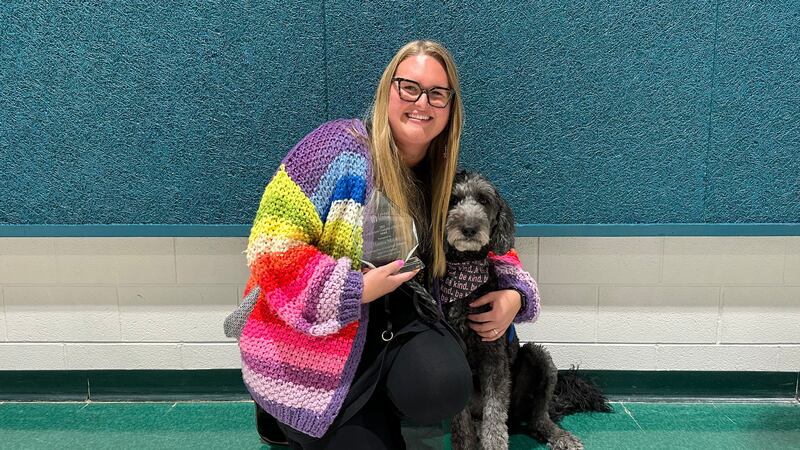 Published: Nov. 20, 2023 at 12:11 PM CST
TOPEKA, Kan. (WIBW) - Nearly 20 years after her mother took home the School Counselor of the Year award, a counselor at Indian Hills Elementary School has now earned the title.
Educators at Auburn-Washburn USD 437 announced on Monday, Nov. 20, that Hanna Kemble Mick has been named the 2023-24 School Counselor of the Year by the Kansas School Counselors Association.
Kemble Mick is currently a counselor at Indian Hills Elementary School and was notified of the choice during an all-school assembly earlier in November.
Kemble Mick, whose mother won the award two decades beforehand, said she is "humbled and honored" to follow in her footsteps. She has been employed as a school counselor for 8 years, 5 of which have been spent at Indian Hills. She also served at Auburn Elementary for 2 years, and New York Elementary in Lawrence for 1.
"My family's legacy has influenced my journey in the field of school counseling," Kemble Kemble Mick said. "I am a fourth-generation educator, where the importance of education and helping students has always been a central theme. Furthermore, my mother, who served as a school counselor, played a significant role in shaping my career path. She was not only a guiding light but a source of inspiration. Her dedication to her students and her commitment to excellence were evident throughout her career."
The district noted that Kemble Mick, a Herington native and Centre High School graduate, earned her bachelor's degree in advertising and a master's in school counseling from Kansas State University.
However, Auburn-Washburn officials said Kemble Mick is not the only member of her family still caring for children in the district. Her dog, Piper, is a therapy dog at the elementary school as well.
"She is a five-year-old Goldendoodle," Kemble Kemble Mick said. "This is her third year at Indian Hills Elementary. She is the best tool in my counseling toolbox."
Piper was given to the Kemble Micks through a family friend.
"Piper's story begins with a tragic event in the life of a family friend, a former school counselor, who lost her beloved daughter," Kemble Kemble Mick said. "To honor her daughter's memory and her passion for working with students, a Goldendoodle dog was chosen to be a therapy dog, a fitting tribute to the daughter's love for both dogs and helping others. However, the dog's placement with another family didn't work out as planned, and our friend was determined to find a deserving home where the dog could continue its purpose of serving students."
A friend reached out to the couple and the first time they met the canine, the bond was instant.
"A connection that was deep and intuitive, reminding me of the capacity animals have to understand and respond to human emotions," Kemble Kemble Mick said. "Since then, Piper and I have embarked on a journey of training and learning together … Piper plays a vital role in my school, bringing many benefits to the students and the entire school community."
Kemble Mick said the experience has been humbling and gratifying.
"It is an honor that extends far beyond personal achievement," she said. "I see it as a recognition of the collective dedication and hard work of all school counselors in the state of Kansas who tirelessly advocate for the well-being and success of our students. Representing the many dedicated counselors in Kansas fills me with pride. I am well aware of the vital role that school counselors play in shaping the lives of students, and to be chosen for this prestigious title is both inspiring and motivating. It reaffirms the importance of the work we do, not only within our individual schools but also in the broader context of the state's education system."
For more information about Auburn-Washburn or the award, click HERE.
Copyright 2023 WIBW. All rights reserved.