Cheney Lake more than six feet low as drought continues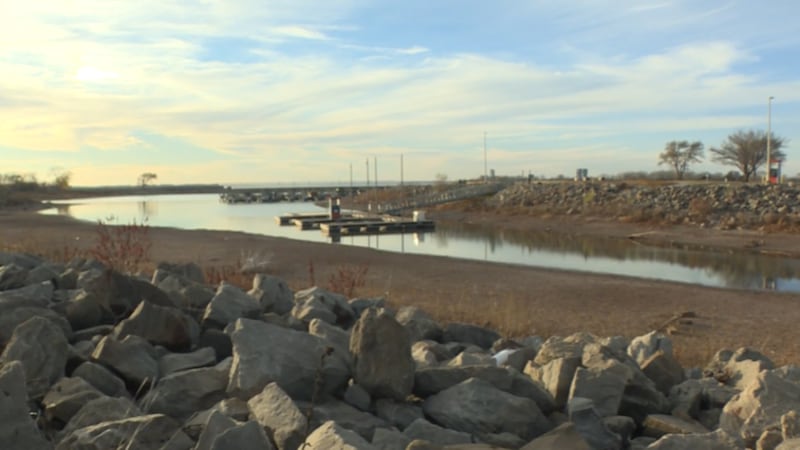 Published: Nov. 18, 2023 at 9:51 PM CST
CHENEY, Kan. (KWCH) - Drought conditions continue to impact many across Kansas, but some areas are drier than others. Cheney Lake is more than six feet low in some areas according to the Cheney Lake Association. The low levels didn't keep boaters or campers, like Mike Miller, away from the park this weekend, although it did change some people's plans.
"I'd have to say it's probably been ten years or so since I've seen it this low," said Mike Miller. "It's been a while, we've seen it two or three feet low but where it's at now a little over six, it's been at least ten years."
Miller says he didn't bother bringing his boat out to camp this weekend.
"Even when it was still warmer and the water was five feet low it made it a challenge to bring it out, only one boat ramp you can use on this side," said Miller, "you can't get into the marina right now because the water level is too low."
Others brought their boats out and they say they ran into trouble.
"All the sudden we just heard a thump and the boat kind of just popped up a little bit," said fisherman Will Dobbin, "we got the boat out of the water and a chunk had been taken out of the propeller..."
Dobbin says he hit a rock last week while fishing at Cheney Lake in his boat, but he was out again Saturday.
"Everywhere you go there's sandbars where there normally isn't sandbars," said Dobbin, "I hit a rock last week, beat up my prop real good."
Despite the low levels Dobbin says Cheney is the best place to get on the water, everyone says they're hoping for rain.
"I couldn't find a marina at El Dorado where I can pull in and not get grounded," said Dobbin. "I tried the main marina the last time I was there, and it was...I didn't even try pulling in."
Copyright 2023 KWCH. All rights reserved. To report a correction or typo, please email news@kwch.com