Prairie Band Casino & Resort to welcome comedian Jeff Foxworthy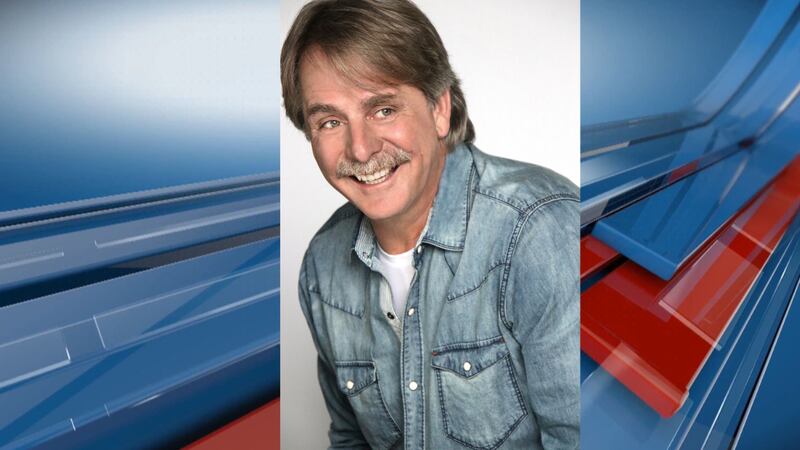 Published: Nov. 18, 2023 at 11:40 AM CST
MAYETTA, Kan. (WIBW) - Comedian Jeff Foxworthy will perform in March 2024 at Prairie Band Casino & Resort.
Prairie Band Casino & Resort officials said comedian, actor, author and radio host Jeff Foxworthy will be coming LIVE to Prairie Band Casino & Resort on Thursday, March 21, 2024, in Mayetta, Kan.
"Foxworthy is especially virtuosic in his physical comedy, his flights of fancy and lightning shifts of tone and mood, he blends all these elements effortlessly. He may define being redneck as possessing "a glorious lack of sophistication," but the truth is that Foxworthy, for all his regular guy image, is a decidedly sophisticated artist." Kevin Thomas, LA TIMES
Prairie Band Casino & Resort officials said Jeff Foxworthy is one of the most respected and successful comedians in the country. He is the largest-selling comedy-recording artist in history, a multiple Grammy Award nominee and bestselling author of more than 26 books. In 2014, he was inducted into the Georgia Music Hall of Fame. Widely known for his redneck jokes, his act goes well beyond that to explore the humor in everyday family interactions and human nature, a style that has been compared to Mark Twain's.
According to Prairie Band Casino officials, Foxworthy hosted the live auction show "What's It Worth?" for A&E in 2020. He was one of the judges on the NBC comedy competition show "Bring the Funny." He has his on comedy channel "Jeff and Larry's Comedy Roundup" on SIRIUSXM. He has a comedy special "We've Been Thinking" on Netflix. He released a game called "Relative Insanity" and another called "See What I Mean." In addition, he continues his live performances across the country.
Foxworthy hosted the FOX television series "Are You Smarter Than a 5th Grader" for several seasons and three seasons of "The American Bible Challenge" for GSN, had an animated series "Bounty Hunters" on CMT, hosted the reality series "The American Baking Competition" for CBS and narrated the Lifetime reality show "The Week the Women Left."
According to Prairie Band Casino, Foxworthy executive produced and starred in "Foxworthy's Big Night Out" and the television series "Blue Collar TV," which came about due the success of "Blue Collar Comedy Tour, The Movie."
Prairie Band Casino officials said in March 2006, the Blue Collar boys reunited for "Blue Collar Comedy Tour-One for the Road" in Washington DC at the Warner Theater. It was one of the highest-rated show on Comedy Central in 2006.
As an author, Foxworthy's book "The Redneck Dictionary" was released on Oct. 16, 2005, which is based on popular words of the south that Foxworthy recounts in his stand-up act. "The Redneck Dictionary II" was released in October of 2007. He also released the New York Times Best Seller "How to Really Stink at Golf," which shares tips for a lifetime of horrible drives and putts. The follow-up to that book "How to Really Stink at Work" was released in May of 2009.
Foxworthy also wrote children's books with "Dirt on My Shirt," being his first. The book is a collection of poems inspired by his family and friends. His second children's book, "Silly Street" was released on Feb. 24, 2009. His third children's book "Hide!!!" was a New York Times Best Seller and won a 2011 Mom's Choice Award for illustrated children's books. He tells the story of a neighborhood game of hide and seek and invites the reader to join in the search.
According to Prairie Band Casino, Foxworthy has voiced numerous characters in animated films, including Handy Smurf in "The Smurfs" and "Smurfs 2," Reggie the Rooster in "Racing Stripes," Lyle in Disney's "Fox and the Hound II," Lindberg in "The Aviators," and Charlie Horse in "Hatched."
July 6, 2004, marked the release of Jeff's final solo comedy CD, "Have Your Loved Ones Spayed or Neutered."
Prairie Band Casino & Resort officials said Foxworthy participated in "The Foxworthy Countdown" in April 1999, bringing fans the current Top 30 country hits as well as interviews with stars. The show ran for 10 years.
Foxworthy also has an HBO special and two Showtime specials to his credit. He also has been bestowed with a People's Choice Award as "Favorite Male Newcomer" for "The Jeff Foxworthy Show."
In addition, Foxworthy started his own outdoor company, Foxworthy Outdoors, which has a line of products related to outdoor living. He a line of "You Might Be a Redneck If..." calendars through Andrew McMeel Publishing, which has sold millions of copies.
The Prairie Band Casino & Resort Great Lakes Ballroom holds approximately 1,000 seats. Guests who purchase a ticket will receive $15 Prairie Cash. All guests who swipe their Players Card will be entered into two drawings. The first 9 p.m. drawing winner will receive $250 Prairie Cash and signed merchandise. The second 9:30 p.m. drawing winner will receive $1,000 Prairie Cash.
For more information, please call 1-888-PBP-4WIN or click HERE.
Copyright 2023 WIBW. All rights reserved.