K-State Director of Athletics Gene Taylor talks new contract extension, women's basketball and more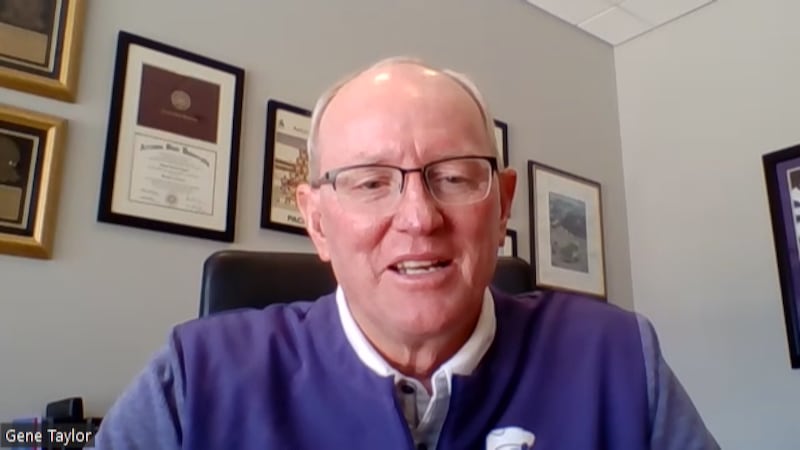 Published: Nov. 18, 2023 at 1:29 AM CST
MANHATTAN, Kan. (WIBW) - It's been quite the last couple of days for Kansas State Athletics.
On Thursday, the women's basketball team upset No. 2 Iowa for the second straight season, the volleyball team swept No. 3 Texas earlier this month, and then No. 8 BYU in late October. On top of all that, Director of Athletics Gene Taylor signed a new contract to keep him in Manhattan through 2029-2030.
"I'm very fortunate," Taylor said. "I appreciate president Linton's trust, the KSA board and the Board of Regents. This is a special place. My wife and I, my kids are pleased to be here. I said in my quote that we have tremendous coaches, staff, wonderful donors and it's a pleasure to come to work every day and I pinch myself and fortunate to be here."
Taylor has made a lot of great hires in his time at K-State, Chris Klieman, Jerome Tang, Pete Hughes to name a few. He says he doesn't only make the decision, he has others help review candidates but he looks for certain things.
"I think the biggest thing is understanding the culture of K-State and finding hat right fit, the right personality that can come in and build a program based on what they believe in as a coach but also what the believe in the culture in terms of what fits here at K-State... Manhattan is a great community and just getting athletes here, they have to understand that and we're lucky that we have a lot of coaches that do." he said.
While he didn't hire Jeff Mittie, it can't go unnoticed the talent he's gathered for this season and upsetting the Hawkeyes in Manhattan last year and now in Iowa.
"I was really impressed and pleased with how they played defense," Taylor said. "They never panicked, they payed great defense. Even though they weren't shooting it very well, Gabby misses a lot of tough shots and then right at the end hits a big one. that just tells me the toughness of this team and confidence that have and it'll be a fun team to watch and I'm anxious to watch them in person."
He's urging fans to pack Bramlage just like they do for the men's team.
"They need to because this team has a really good future ahead of them this year," he said. "There's some pieces that were not able to play last year due to injury, I think you're going to see a really fun basketball team to watch. You can spend a lot of time between men and women's program and see some quality basketball. To watch Yokie (Ayoka Lee) play at that level and Gabby (Gregory), Serena Sundell, the twins, it's really going to be a fun team to watch and I would say we need to pack it just as much as we want to pack it for the men's program as well."
But the biggest topic on the minds of many is the 121st Sunflower Showdown where No. 25 Kansas at 7-3 hosts No. 21 K-State in what's being hyped up to be one of the better games in recent memory.
"Chris (Klieman) has said it multiple times that Coach Leipold has come in and really made that program successful there," Taylor said. "They're a unique team to watch and a fun team to watch in all honesty, there offense is hard to stop. They have a lot of great talent on offense and defense. It's going to be a tough task for us, but that's what you want in a rivalry game. You want it to be competitive, you want it to be a good game, I prefer it not to be because I'm a little older you know, but what I appreciated was is the respect between the two coaches more importantly but it's not going to be an easy environment for us to walk into to."
He said with this game in primetime again at 6:00 p.m. on FS1, it only helps both universities.
"It just brings a lot of eyeballs on our state," he said. "The other thing is we have great fans and for people to see that along with KU to see we play sports at a high level. Obviously people are familiar with KU basketball and our own last year."
In terms of bringing back the rivalry of this game, he likes how it's always been.
"It's a good respectful rivalry, a clean rivalry and I think we just need to keep it that way," he said.
Even with the new Morgan Family Arena for volleyball, and the other new facilities on campus, they're stepping stones to sustaining of building that winning culture.
"The future is bright. That venue has been phenomenal, that venue has been packed, it's a home court advantage in so many ways and Jason (Mansfield) has talked about that, the ladies have talked about that," Taylor said. I think he's got the right formula. Again, a coach that understands the culture and understands what it's going to taker to be successful."
Taylor said his job moving forward is to keep providing resources to keep them competitive and guide the athletics department through revenue sharing, employee status of athletes and other things.
"Continuing to give our athletes a great experience whether it's anything from on the court, off the court, the academic support, mental health support... and it's my job to lead those things," he said.
Copyright 2023 WIBW. All rights reserved.