K-State announces contract extension for Athletics Director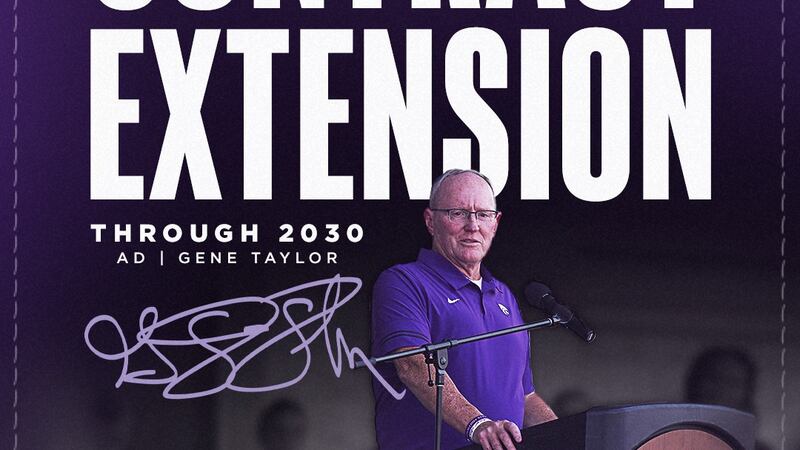 Published: Nov. 17, 2023 at 11:49 AM CST
MANHATTAN, Kan. (WIBW) - Kansas State University has announced a contract extension for Athletics Director Gene Taylor.
K-State officials said University President Richard Linton and the Kansas State Athletics, Inc., Board of Directors announced that Taylor, who has led K-State Athletics through one of its most successful periods in history, has agreed to a contract extension through the 2029-30 academic year.
According to K-State officials, the agreement extends Taylor's contract through June 30, 2030, with an annual salary of $925,000 beginning in the 2023-2024 athletic year. The contract also includes retention incentives in each contract year. Taylor will receive $250,000 at the end of each of the next four years, and that number will increase to $500,000 annually for the final three years of the contract.
"K-State is fortunate to have one of the nation's premier athletic directors in Gene Taylor," said Linton. "Gene leads with a quiet confidence and steadfast belief in our student-athletes and the coaching staffs who support them — and he has been instrumental in growing our facilities and programs into what they are today. I am thrilled that Gene will continue to lead our athletics program through the end of the Next-Gen K-State strategic plan in 2030."
K-State officials said Taylor's guidance has helped the K-State Athletics thrive, highlighted by last season's Big 12 Championship in football and Elite Eight run for men's basketball. Following a record 2022-23 campaign, Taylor was named the 2022-23 Cushman and Wakefield FBS AD of the Year.
"There is no other place our family would rather be than Manhattan and K-State," Taylor said. "I appreciate President Linton, the KSA Board and the Kansas Board of Regents for their continued trust in me leading such a phenomenal athletics program. We have the best fans and donors in the country and a group of coaches, staff and student-athletes who are committed to competing for championships, and I am looking forward to the years ahead as we continue to elevate our program."
K-State officials said during Taylor's career, hiring and retaining top coaches has been a staple. Chris Klieman led the football tema to last year's Big 12 Championship in his fourth season on the job and has K-State among the nation's top programs annually, while Jerome Tang was named the 2022-23 Naismith Coach of the Year after leading the men's basketball program to the Elite Eight in his inaugural year in Manhattan after being picked to finish last in the preseason Big 12 poll.
In Coach Jason Mansfield's first year, the volleyball team has made it to three Top 8 opponents. The new Morgan Family Arena has been sold out and is the envy of programs across the country. Other notable hires by Taylor include Pete Hughes for baseball, Jordan Smith, for women's tennis and Stew Burke for women's golf.
In addition, Taylor and his staff have fundraised and implemented a department-wide facility master plan that beenfits all K-State teams, including the newly completed South End Zone of Bill Snyder Family Stadium, Morgan Family Arean for volleyball, the Morris Family Olymptic Training Center and the Shamrock Practice Facility for football.
Taylor was named the eighth-best Athletic Director among FBS programs by Stadium in 2020. He has also implemented a strategic plan for the department which places an emphasis on the student-athlete experience, while his leadership in navigating COVID-19, in addition to enhancing the department's already-strong diversity and inclusion program, has been well documented.
K-State officials said with the support of fans and donors, K-State Athletics has also continued to be financially self-sufficient and does not receive support from the university. In FY 2019, a year earlier than anticipated, the program ended the practice of receiving student privilege fees in support of the program. This move makes Taylor's program one of eight across the country to operate with no direct or indirect university and student funding or state support.
In addition to achieving a budget surplus for the 12th straight year, K-State officials indicated overall pledges and cash gifts to the department during the 2023 fiscal year totaled $36.3 million, including a new record $24.1 million in annual fund donations. Also included in the $24.1 million in annual giving was a department record $1 million raised during the Powercat Auction.
K-State officials said the Ahearn Fund reached 8,547 total members in 2022-23 from 47 different states, while the National Leadership Circle consists of 608 members from 26 different states. Since 2009, the department has received 930 capital project gifts of $10,000 or more, and currently 94-percent of all premium seating areas are sold.
K-State officials noted graduating student-athletes remains the top priority for the department and academic success has continued under Taylor's guidance as K-State continues to rank among the top schools in the Big 12 in APR and graduation success rate.
Copyright 2023 WIBW. All rights reserved.