Recent report ranks Topeka among the 50 worst cities for potholes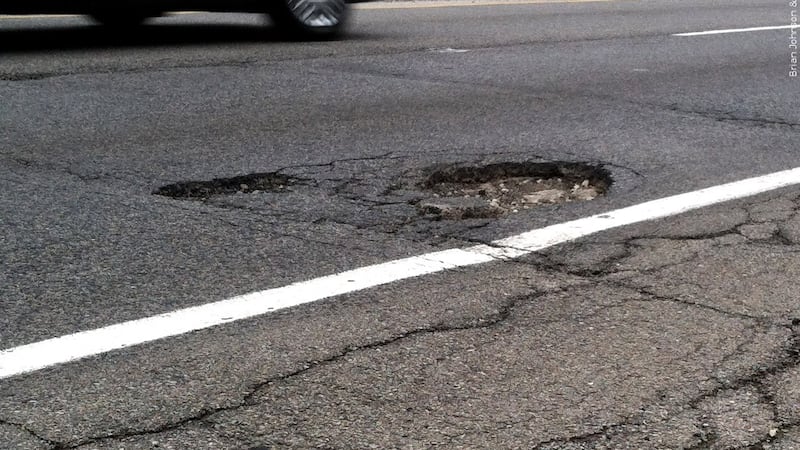 Published: Nov. 16, 2023 at 11:55 AM CST
TOPEKA, Kan. (WIBW) - A recent report has found that while Kansas has one of the 10th best roads when it comes to potholes, the Capital City has been ranked among the 50 worst cities.
With winter weather fast approaching and holidays just around the corner, more potholes should be expected on daily drives. A costly problem drivers in the Capital City are already well acquainted with. A recently released report from USA Today has found that the city's persistent pothole predicament has placed it among the 50 cities with the worst issues.
To find where drivers were having the most costly issues, USA Today said it analyzed the most recent data from AAA. Around 44 million drivers around the nation had to fork over serious cash in 2022 for vehicle repairs after encounters with potholes.
Statewide, the report found Kansas has the 10th best roads as it ranked with the 40th worst issue as it tied with Montana with a score of 13.50. Meanwhile, on a city level, Topeka ranked 50th as it tied with Rochester, N.Y., and Anchorage, Alaska, with an average of 13.75.
To reduce the risk of damage to a vehicle when a pothole is encountered, USA Today gave the following tips:
Reduce speeds and straighten the steering wheel - It is not always possible to avoid a pothole, however, the faster you hit it, the more damage it will cause to a vehicle.

Stay alert - It may not always be possible to see every pothole, especially at night or in the rain, an alert driver can help avoid more obvious or substantial potholes.

Be cautious when water is on the roadway - Storms and melting snow can make it hard to spot a pothole, especially under a puddle, so drivers should slow down if they see standing water on the road.

Stay on top of vehicle maintenance - Underinflated or worn-out tires are more vulnerable to damage than newer and properly inflated ones. Unaddressed issues with steering or suspension can lead to more significant damage after a pothole is encountered.

Be on the lookout for vehicle changes - If a pothole is hit and new noises are heard or the way the vehicle drives changes, then make an appointment with a mechanic as soon as possible to prevent further damage.
The report found the states with the worst pothole issues include:
Washington

Minnesota

Michigan

Tennessee

Indiana
Meanwhile, the cities with the worst potholes include:
New York City

Los Angeles

Minneapolis

Nashville

San Francisco
For more information or to see where other states and cities fall, click HERE.
Copyright 2023 WIBW. All rights reserved.