Kansas Congressman again votes to impeach Homeland Security Secretary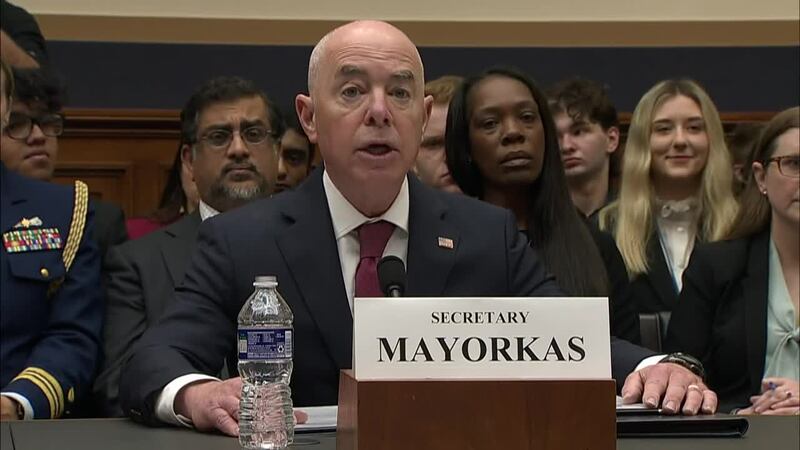 Published: Nov. 16, 2023 at 1:32 PM CST
TOPEKA, Kan. (WIBW) - After Congress referred an attempt to impeach Homeland Security Secretary Alejandro Mayorkas, Congressman Tracey Mann has again voted to move forward with the effort.
U.S. Congressman Tracey Mann (R-KS) says he recently voted to move forward with an attempt to impeach Department of Homeland Security Secretary Alejandro Mayorkas.
"Secretary Mayorkas has simultaneously created a humanitarian crisis and a national security emergency at our southern border, and he's lied about it under oath," Rep. Mann said. "Earlier this week, the House of Representatives had the chance to impeach him, but instead, the proceedings were referred back to the House Homeland Security Committee, leaving the Committee to decide next steps. That referral only delays holding Secretary Mayorkas accountable for violating his oath of office."
Mann indicated that under Sec. Mayorkas' watch, 3.8 million individuals have illegally entered the U.S. He halted construction of the border wall and reassigned up to 50% of border patrol agents from patrols to processing which left wide areas unattended.
"Secretary Mayorkas has endangered the lives of American citizens, and he should have been held accountable for his failures and impeached this week," Mann continued. "Americans deserve to have someone running the Department of Homeland Security who will keep our homeland secure."
Mann noted that he supports legislation that would force construction on the border wall to resume, increase the number of border patrol agents, protect unaccompanied children from human trafficking and terminate "catch-and-release" programs.
A spokesperson for the Department of Homeland Security has urged Congress to instead focus on funding the government, immigration system reform and passing supplemental national security funding requests.
"Secretary Mayorkas continues to be laser-focused on the safety and security of our nation," the spokesperson told CNN. "This baseless attack is completely without merit and a harmful distraction from our critical national priorities."
Copyright 2023 WIBW. All rights reserved.