Washburn lands four on All-MIAA teams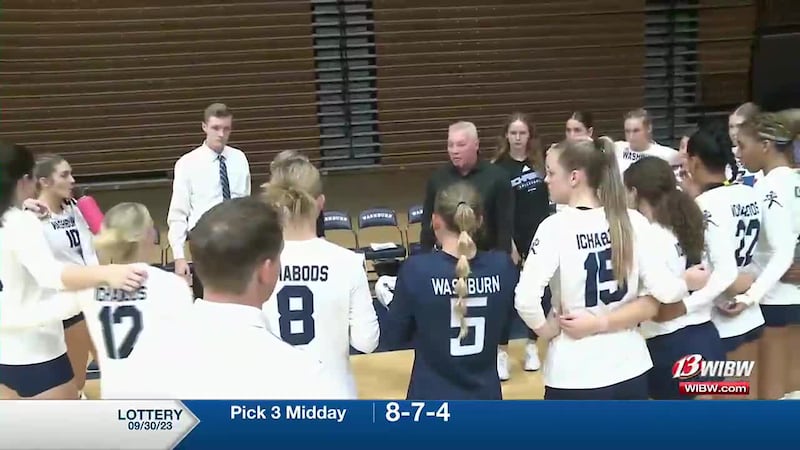 Published: Nov. 15, 2023 at 1:24 PM CST
TOPEKA, Kan. (WIBW) - The Ichabods finished the regular season at 17-10 and several 'Bods are garnering conference honors.
Jalyn Stevenson and Rachel Schwensen were first team selections while Shawnee Heights grad Taylor Rottinghaus and Corinna McMullen earned second team honors.
This is Stevenson's second consecutive season as a All-MIAA First Team selection and third overall selection. She leads Washburn in kills and has played in every set and started all 27 matches for Washburn. Stevenson has served 32 aces this season, and second on the Ichabods with 408 digs along with 30 blocks.
Schwensen is in her first season with the Icahabods. She finished the regular season second on the Ichabods in kills with 247. Schwensen played in 24 matches making starts in 19 and was second on Washburn with 60 blocks on the year and also made 53 digs.
McMullen earned All-MIAA honorable mention honors as a freshman and now is a second team selection. She played in all 27 matches making 23 starts and leading Washburn with 593 assists on the year. She was third on the Ichabods with 271 digs while also leading WU and the MIAA in aces serving up 49 this season.
The Thunderbirds alum Rottinghaus made appearances in all 27 matches. The libero led Washburn with 408 digs and also had 78 assists with seven aces. She finished the season reaching the 20 dig mark in five straight matches and reached 26 digs three times, the most for any Washburn player in a match this season.
Washburn begins postseason play as the No. 5 seed in the MIAA Championship Tournament on Thursday facing No. 4 Missouri Western at 7 p.m. at the Civic Arena in St. Joseph, Mo.
Copyright 2023 WIBW. All rights reserved.