New holiday gift box set sure to please Kansas recipients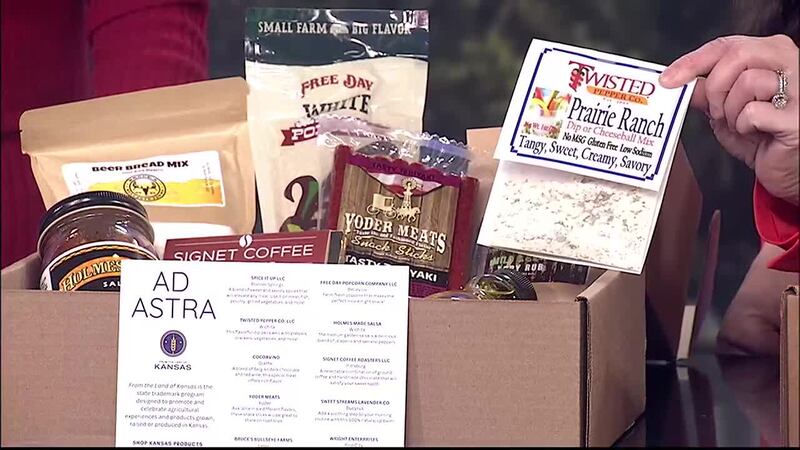 Published: Nov. 15, 2023 at 2:42 PM CST
MANHATTAN, Kan. (WIBW) - Those in search of the perfect holiday gift for that special Kansan in their life may not need to look much further than the Kansas Department of Agriculture.
The Kansas Department of Agriculture announced on Wednesday, Nov. 15, that this holiday season, it has released a holiday gift box set from the 'From the Land of Kansas' state trademark program. Each box contained an assortment of Kansas-grown, -raised or -produced products with two size options available.
"Our holiday gift boxes are the perfect gift for anyone who loves Kansas. It's a way to give back to Kansas ag businesses while making gift shopping simple and personalized," said Sammy Gleason, From the Land of Kansas marketing manager. "We appreciate all our customers who come back each year to support our amazing producers and look forward to new customers ordering for the first time."
The KDA noted that the program is meant to promote and celebrate agricultural experiences and products grown, raised or produced in the Sunflower State.
The Department said gift boxes can be purchased online and shipped anywhere in the U.S. However, Dec. 9 will be the last day to order for guaranteed delivery before Christmas. Personalized notes are also available.
The KDA indicated that the Konza Box will include:
Honey from New Hope Farm & Apiary in Wellsville

Beef Jerky from Pat's Beef Jerky in Liebenthal

Lightly Salted Wheat Snacks from Wheatland Foods in Hays

Hot Chocolate from Sunflower Fundraising Company in Olathe

Kenzee's Everything Sauce from MKC Kitchen LLC in Bazine

Mustard from Grannie's Homemade Mustard in Hillsboro

A complimentary From the Land of Kansas branded leather coaster
Meanwhile, the Ad Astra Box will offer:
Medium Garden Salsa from Holmes Made Salsa in Wichita

Tasty Teriyaki Beef Sticks from Yoder Meats in Yoder

Mild and Sassy Dry Rub from Spice It Up in Bonner Springs

Prairie Ranch Dip Mix from Twisted Pepper in Wichita

Red Wine Chocolate Sauce from Cocoavino in Olathe

Popcorn from Free Day Popcorn in Belleville

Chocolate Bar from Signet Coffee Roasters in Pittsburg

Lavender Lip Balm from Sweet Streams Lavender Co. in Bucyrus

Beer Bread Mix from Bruces Bullseye Farms in Leon

Sunflower Oil from Wright Enterprises in Bird City

A complimentary From the Land of Kansas branded coaster
To order a 2023 holiday gift box, click HERE.
Copyright 2023 WIBW. All rights reserved.