Chiefs move to 3-1 on Sunday Night Football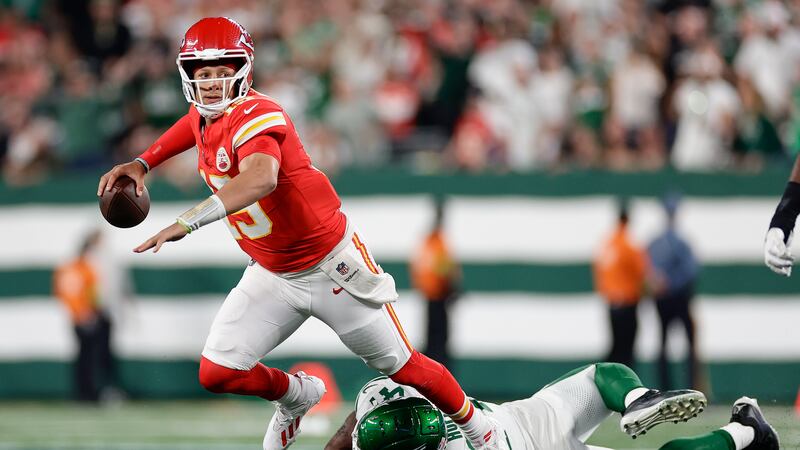 Published: Oct. 1, 2023 at 10:18 PM CDT
NEW YORK, NY. (WIBW) - To begin the season, it was supposed to be an anticipated contest with Aaron Rodgers and Patrick Mahomes until Rodgers tore his Achilles in the first game of the season, but Kansas City win 23-20.
KC jumped out to a 3-0 lead with a 37-yard field goal from Harrison Butker but the Chiefs defense forced a quick three-and-out which resulted in a Isiah Pacheco 48-yard touchdown making it 10-0 with over eight minutes left in the first quarter.
After another three-and-out by the Chiefs defense, Mahomes and company drove down the field and Noah Gray for a 34-yard touchdown and that was Mahomes' 200th career passing touchdown, the fastest player to do that. 18 plays, 17 points later, it was quickly 17-0 with over three minutes in the first quarter. At the end of the first quarter, the Chiefs had 200 total yards offense compared to New York's 32.
But the second quarter flipped a little bit, a Jawaan Taylor face mask penalty resulted in a safety and a field goal made it 17-5. Mahomes however threw an interception after that and led to a touchdown from Zach Wilson to CJ Uzomah cutting the Chiefs lead to 17-12.
KC led 20-12 at the break after Chris Jones halted anymore damage after Mahomes' second interception of the first half.
But the Jets came out of halftime firing, Zach Wilson drove right down the field and connected with Allen Lazard for a 10-yard touchdown and Wilson converted the two-point conversion by himself to knot it up at 20.
Then in fourth quarter, Kansas City regained the lead with a 26-yard field goal from Butker, his third of the game at that point. A huge break for the Chiefs happened when Wilson fumbled a snap and Tershawn Warton recovered the loose ball.
And that's all the Chiefs would need, Patrick Mahomes ran for some yards and slide in bounds to keep the clock running and they move 23-20.
Copyright 2023 WIBW. All rights reserved.