Without Jalon Daniels, No. 24 Kansas drops Top 25 matchup with No. 3 Texas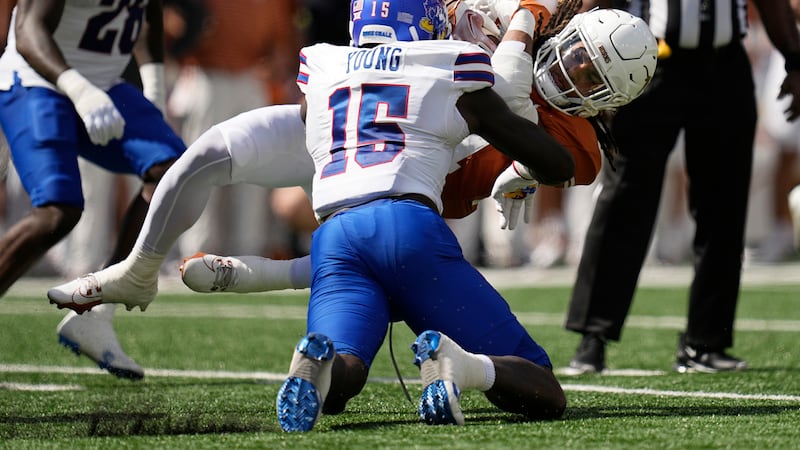 Published: Sep. 30, 2023 at 5:44 PM CDT
AUSTIN, TX. (WIBW) - Daniels was expected to start Saturday afternoon, but after re-aggravating his previous back injury on Saturday, the Jayhawks couldn't find any momentum.
Jason Bean came in and started for KU and this is not his first rodeo either. Texas took an early 10-0 lead in the first quarter but the Jayhawks kept pace when Bean ran for 27 yards, fumbled but Daniel Hishaw Junior scooped it up for 18 yards and scored to make it 10-7.
Kansas' defense played very well in that first half, allowing just two field goals after that touchdown and Cornell Wheeler got an interception to end the half.
But, right out of the second half, the Longhorns extended their lead to 20-7 after a 54-yard touchdown from running back Jonathan Brooks. Bean however would respond rather quickly with a 58-yard strike to Trevor Wilson down the field making it 20-14.
In the winding minutes of the third quarter, the Jayhawks fumbled it and Texas immediately marched down the field and Brooks got his second score of the day, 26-14 Longhorns led.
After that, Texas poured it on with two more touchdowns in the fourth quarter and totaling well over 600 yards of offense in this game. Kansas fell with a final score of 40-14.
KU will be back home next week hosting University of Central Florida at three p.m. on FOX.
Copyright 2023 WIBW. All rights reserved.