Friday forecast: Record heat, stay cool
Staying hot through early next week
Published: Sep. 29, 2023 at 4:01 AM CDT
|
Updated: Sep. 29, 2023 at 11:32 AM CDT
TOPEKA, Kan. (WIBW) - The big weather story is the heat through early next week and wind gusts 20-30 mph before changes to the weather pattern move in by Tuesday. The highest chance of rain for the next 8 days will be Tuesday night.
Taking Action:
With this late season heat wave, make sure you're still putting on sunscreen and staying hydrated. Limit outdoor exposure during the afternoon hours and keep your pets in mind as well.

A few sprinkles or a brief light rain shower can't be ruled out Saturday morning mainly out toward central KS. It won't amount to much if anything does hold together or develop.
The record high in Topeka today is 95° so there is a high probability of at least tying the record if not breaking the record. It'll be a bit tougher this weekend with the records 97° and 95° respectively but it'll still be hot. With the warm temperatures, low humidity, recent dry conditions and wind gusts 20-30 mph today through Sunday the fire danger threat will increase especially in north-central KS.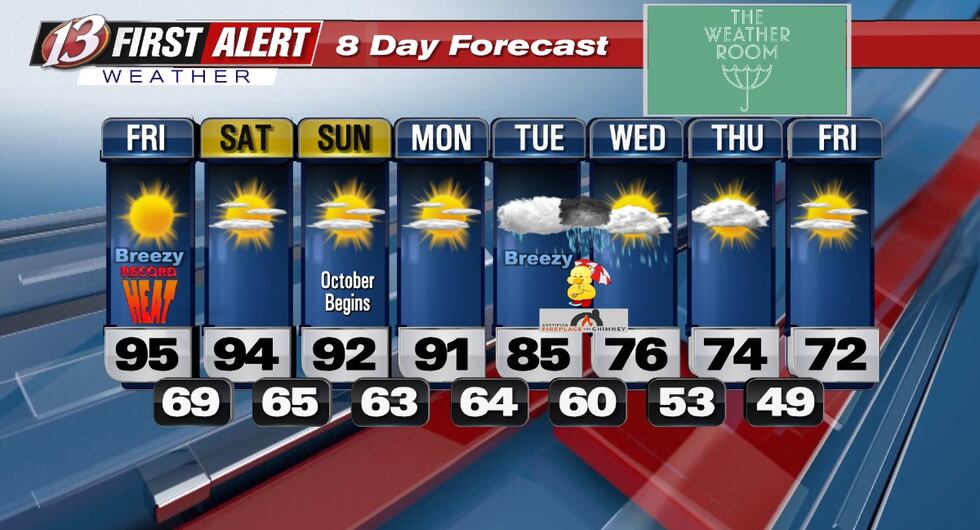 This Afternoon: Sunny. Highs in the mid 90s. Winds S 10-20, gusts up to 25 mph.
Tonight: Mostly Clear. Lows in the upper 60s-low 70s. Winds S 5-15, gusts up to 25 mph.
Tomorrow: Mostly Sunny. Highs in the mid 90s. Winds S 10-20, gusts up to 25 mph.
Sunday: Mostly Sunny. Highs in the low-mid 90s. Winds S 5-15, gusts up to 20 mph.
It'll remain hot Monday before more clouds move in on Tuesday. Can't rule out a few spotty showers especially late with the best chance for rain Tuesday night. Depending how much cloud cover there is and how quickly rain moves in will depend on how warm it will get Tuesday.
Uncertainty exists on how much rain lingers into the day Wednesday with 2 of the 3 long range models pushing the rain out in the morning with one model keeping light rain lingering through Thursday evening. This will impact temperatures Wednesday and while models differ on how warm it will be Thursday and Friday it will be more seasonal.
Copyright 2023 WIBW. All rights reserved.