CDC data-based report finds U.S. drug overdose, fentanyl-related deaths at all-time high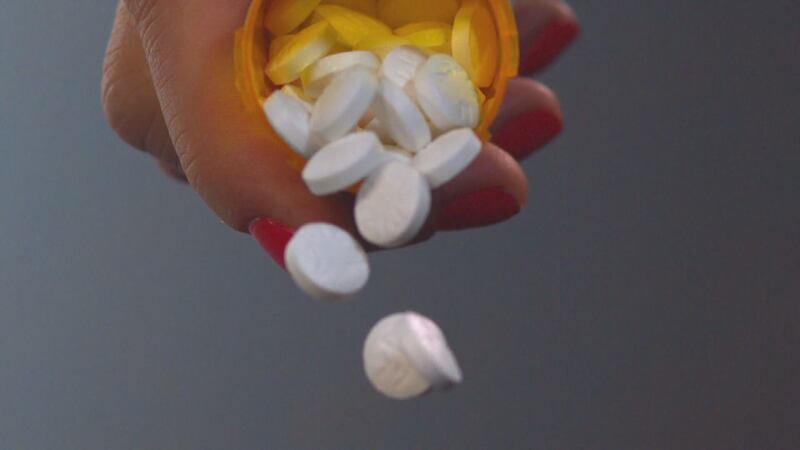 Published: Sep. 26, 2023 at 7:04 PM CDT
TOPEKA, Kan. (WIBW) - A report based on the latest data from the Center for Disease Control and Prevention found that 31 states have seen a significant increase in fentanyl deaths compared to 2022 and 2023. Kansas was ranked in the top 20 based on fentanyl and other synthetic opioid-related deaths.
Families against Fentanyl analyzed the CDC data and determined that U.S. drug overdose deaths have reached an all-time high, which includes deaths related to fentanyl and other synthetic opioids.
Estimates show that more than 111,000 Americans have died from a drug overdose during a 12-month period that ended in April. The CDC estimated that 77,000 of those deaths involved fentanyl and other synthetic opioids other than methadone.
FAF says that date shows a 1.7% increase in overall U.S. overdose deaths compared to the previous year. However, the FAF noted that upon further analysis, illicit fentanyl and other synthetic opioid deaths increased by an even greater margin at 4.9%. Some states even report a one-year difference and an increase higher than 50%.
Thirty-one states saw an increase in fentanyl deaths this year compared to the previous year. Each state was ranked based on how much of an increase and difference states experienced from each period. Kansas was ranked 14th overall, with an increase of 16%. The current 12-month period saw 428 fentanyl and other synthetic opioid deaths, while the previous period saw 370.
Oregon and Washington state had the highest reported rate of fatalities due to fentanyl poisoning at 13 times the national average.
| Rank | State | Current 12 months | Previous 12 months | Percent increase |
| --- | --- | --- | --- | --- |
| 1 | Oregon | 1,020 | 610 | 67% |
| 2 | Washington | 2,313 | 1,403 | 65% |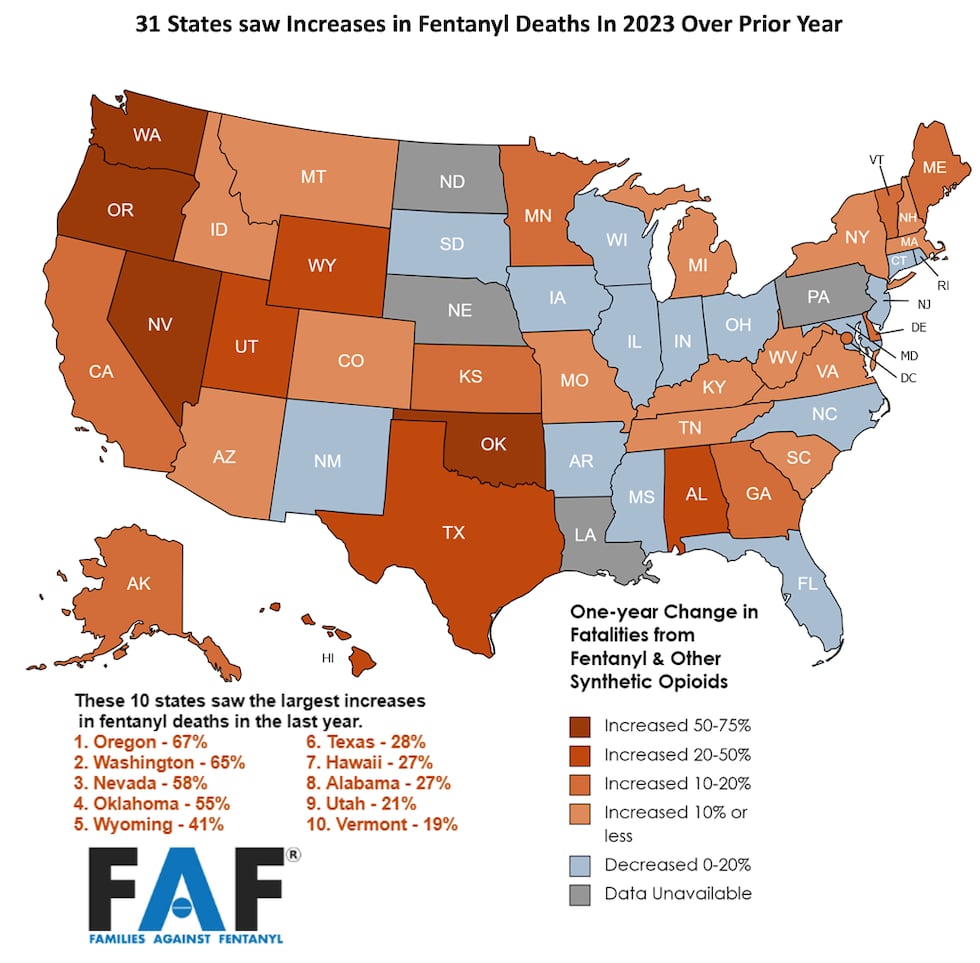 FAF then ranked each state based on how many fentanyl deaths each saw in one year. Kansas was ranked 33rd because the state experienced 428 fentanyl deaths during the current 12-month period, and the previous year saw 370. The states with the highest fentanyl-related deaths include California (1), Florida (2), and Ohio (3).
| Rank | State | Current 12-months | Previous 12-months |
| --- | --- | --- | --- |
| 1 | California | 7,728 | 7,048 |
| 2 | Florida | 5,349 | 5,607 |
| 3 | Ohio | 4,045 | 4,078 |
| 4 | North Carolina | 3,224 | 3,322 |
Jim Rauh, the founder of Families Against Fentanyl and who lost his son to fentanyl poisoning in 2015, expressed concern over the data and called on President Biden to act.
"This is alarming news. It should serve as a wake-up call to our leaders in Washington that more must be done – fast! We are calling on President Biden to immediately convene a White House task force dedicated to the overdose and fentanyl crisis that is taking so many American lives," said Rauh.
"For thousands of families across this country, this is a matter of life or death," added Rauh. "We need someone in the West Wing who is accountable directly to the President for leading the government's response to this crisis. We need regular public briefings and real-time data. Americans deserve to know what is being done to save lives, and what is being done to uncover and stop the international manufacturers and traffickers of illicit fentanyl. This is the number one killer of our nation's young adults. It is killing more and more children each year. There is nothing more valuable than our people. From one father to another, I am urging President Biden to establish a White House task force immediately and demand emergency action."
According to the FAF, the non-profit organization has created a petition calling on lawmakers to make illicit fentanyl a weapon of mass destruction which has now had over 80,000 signatures.
If you want to learn more about the CDC data-based report, click HERE.
Copyright 2023 WIBW. All rights reserved.