Washburn University names 2023 Family of the Year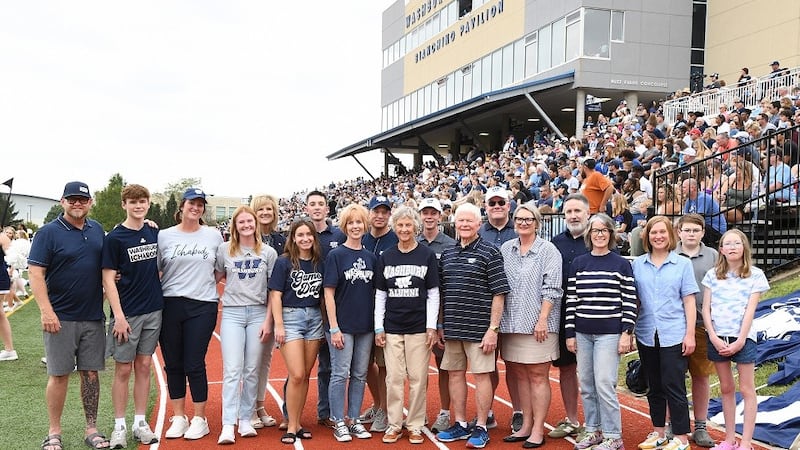 Published: Sep. 23, 2023 at 4:04 PM CDT
TOPEKA, Kan. (WIBW) - Washburn University named their 2023 Family of the Year during Family Weekend.
Washburn University officials said they officially named the Hendrickson/Robinson/Steiner family as the 2023 "Family of the Year." The Family of the Year designation honors the family's dedication to, support of and enthusiasm for the unviersity over the decades. It also acknowledges their embodiment of the Washburn University motto, Non Nobis Solum - Not For Ourselves Alone.
According to Washburn University officials, the Hendrickson's commitment to Washburn University goes back four generations, spanning from great grandparents to cousins. They include the following:
Mary Ellen Soults, BA '32

Alice McCune Robinson, BA '62

David Robinson, attendee '56-'58

Amy Robinson Hendrickson, BA '93

Ross Hendrickson, BBA '93, MBA '97

Sam Steiner, BA '91

Anna Steiner, BA '94, BS '95

Michael Steiner, BA '99, JD 2004

Tabitha Reist Steiner, BA 2000

Jack Hendrickson, senior, Criminal Justice

Reagan Berg, sophomore, Nursing
Washburn University officials said Mary Ellen Soults, a family matriach, was the first to attend Washburn and earned her bachelor's degree in 1932.
"With help from staff at the Washburn Alumni Association, I was able to learn more about her involvement on campus. I knew she was an Alphi Phi but also learned that she played hockey and basketball as well as being a member of the Dolphin Swim Club, Mathematics Club and Nonoso," said Jack Hendrickson, current Washburn University senior and Soults' great grandson. "The Washburn Alumni Association even found an old yearbook that belonged to a friend of hers that she had personally signed. It was exciting for me and my family to see her handwritten signature from the 1929 KAW [yearbook]!"
Washburn University officials indicated what Hendrickson was able to further learn about his great-grandmother confirmed attributes he had known about her, she was dedicated to her family, service and Washburn University. Traits she helped pass down through the generations and that can still be seen throughout the Hendrickson family today.
"As a way of showing respect to the previous generations of lchabods in my family, I also feel it is important to be involved on campus and in the community. I have done that through the Washburn College Republicans, the Interfraternity Council Executive Board, a student member of the Washburn Alumni Association and a member of Phi Delta Theta, having served two terms as vice president. My time in Greek life has provided great memories and strong connections. Thanks to Washburn's highly respected reputation in the Topeka community, I have had many opportunities for internships in the political and criminal justice fields."
Hendrickson's parents, Amy and Ross, were heavily involved on campus as students. As alumni, they have stayed strongly committed to the university. They are lifelong members of the Washburn Alumni Association. Amy served as assistant director of the Washburn Alumni Association and Ross as a board member. They have also continued participation in Zeta Tau Alpha for Amy and Phi Delta Theta for Jack and Ross as well as Jack's grandfather, David Robinson.
"Washburn has a personable feel similar to what I grew up with in Chanute," said Hendrickson. "From small class sizes to professors who know your name and your career aspirations, to a beautiful campus, Washburn has also helped mold me into the man I am today. During my time at Washburn, I have been able to meticulously create my own professional network. I believe I share the same attributes of my parents and grandparents with a friendly demeanor and polite and positive attitudes. They have taught me how to easily connect and work well with others."
Washburn University officials indicated the family holistically stays involved with Washburn University as lifelong members of the Washburn University Alumni Association and continued participation in the respective fraternity or sorority organizations.
Washburn University officials noted recognizing a family of the year is an annual tradition at Washburn University that normally occurs as part of Family Weekend celebrations during the football game.
Copyright 2023 WIBW. All rights reserved.