CVS pharmacists, staff walk out in protest of 'dangerous environment' for patients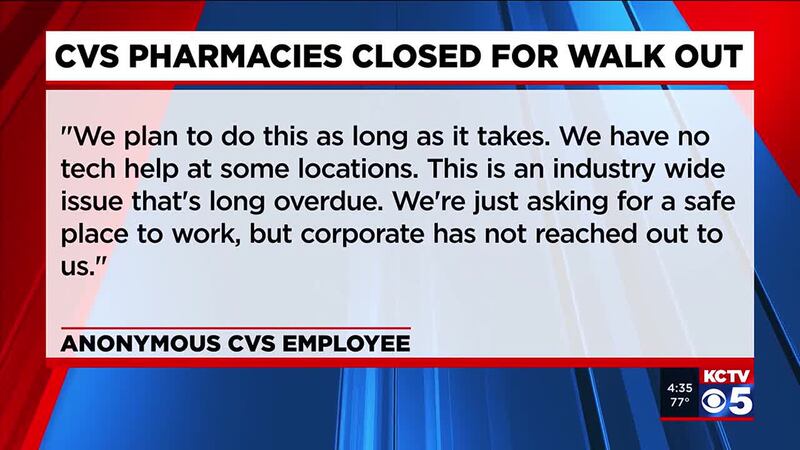 Published: Sep. 22, 2023 at 5:44 PM CDT
KANSAS CITY, Mo. (KCTV) - Numerous pharmacies around the Kansas City Metro have been temporarily closed for the past couple of days.
Pharmacists at these locations are walking off the job in protest because they feel they're not given enough staff support. Less than adequate staff support puts patient's safety at risk.
One CVS employee went as far as to say their workplace has become "a dangerous environment," and customers deserve better.
Some of the CVS Pharmacy closures are those located within Target, including locations on Chipman Road in Lee's Summit, Ward Parkway, and on Stadium Parkway in Kansas City, Kansas.
The Target in Mission, Kansas, doesn't have its CVS Pharmacy open either; nor does the Targets in Overland Park or in Olathe near 154th Street.
We spoke to several pharmacists anonymously for fear of retribution if they came forward.
Each explained that the walk-out was decided on Wednesday night. Employees in the Target sector allege they're always pulled to other regular store locations without any notice.
We plan to do this as long as it takes. We have no tech help at some locations, this is an industry-wide issue that's long overdue. We're not asking for more money, we're not asking for more vacation time. We're just asking for a safe place to work, but corporate has not reached out to us.
At times, being pulled to another location could mean going as far as to Columbia, Mo. Those locations can, sometimes, be weeks behind in COVID vaccine appointments, filling prescriptions, and flu shot appointments.
Employees told KCTV they feel like they're set up for failure.
Pharmacists argue that, ideally, they would like five to six employees behind the counter to manage the pharmacy properly and dedicate enough time to all patients.
Instead, they say one pharmacist might be put in charge of handling an entire location without any help from techs.
The pharmacists said they sometimes deal with a workload of 15 flu shots and COVID vaccines on a daily basis, plus filling prescriptions.
"The time for positive work environment changes are now so that we can better serve the KC patients. And this pharmacist is asking for more pharmacist support to join the cause," another pharmacist added. "A short-term inconvenience for our patients now will lead to industry-wide change for the future. Please join us."
A Spokesperson for CVS responded to KCTV with a statement via email.
We're making adjustments and plan to reopen as soon as possible. In the meantime, patients with immediate prescription needs can visit any open CVS Pharmacy for assistance.
Overall, about 25 percent of all CVS Pharmacies are impacted by this walkout by Pharmacists.
According to sources, CVS allegedly took prescription requests from locations that are closed and sent them to stores that are open, which has backed up those locations by days.
To get the latest news sent to your phone, download the KCTV5 News app here.
Copyright 2023 KCTV. All rights reserved.