Weekend of events planned to celebrate oldest courthouse in Kansas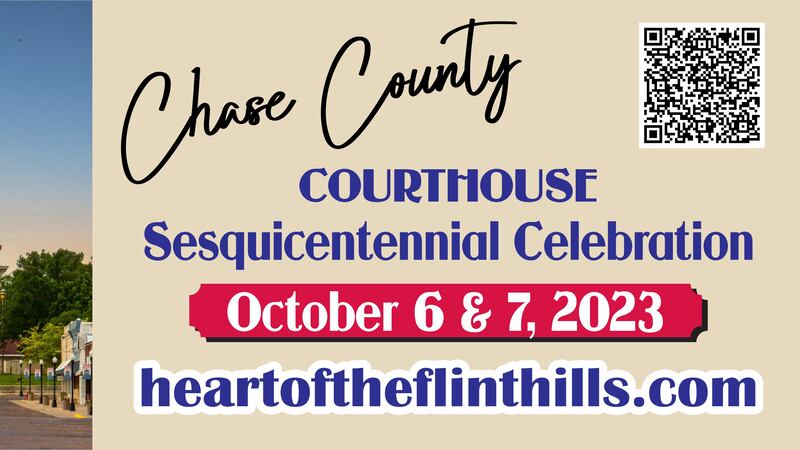 Published: Sep. 21, 2023 at 8:26 AM CDT
COTTONWOOD FALLS, Kan. (WIBW) - A weekend full of events including an 1873 ball, a model train show and high school football will mark the 150th anniversary of the oldest running courthouse in the Sunflower State.
The Chase Co. Courthouse Sesquicentennial Planning Committee says that on Friday, Oct. 6, it will kick off a weekend full of events to celebrate the oldest running courthouse in the Sunflower state. Festivities will begin with a Homecoming and Sesquicentennial parade through the town.
Later Friday evening, officials said the Chase Co. Bulldogs will host the Lyndon Tigers with a booster club tailgate meal beforehand. Meanwhile, music lovers can gather at Prairie PastTimes for the Emma Chase Free Music Jam or grab a partner and dance the night away at the Old Elementary School at an 1873 Victorian Ball.
On Saturday, the Committee noted that non-stop activities will begin in the morning with a car show at the old school. A 5K fun run, a disc golf tournament, tours of the courthouse and vendors of all kinds will also be present in the city as well as a model train show at the 1913 Strong City Depot.
On Saturday afternoon, officials indicated presentations about Chase Co. ghost towns will be held at the Senior Center with a special display at the historical museum and a photo display and contest at the Symphony in the Flint Hills Gallery. Local businesses will also have special events and displays as well as live music from local bands in front of the courthouse.
As for the kids, the planning committee said a bouncy house will be located on the courthouse lawn along with face paintings at the old elementary school and caricature artist drawings downtown. Food vendors and local restaurants will serve customers throughout the day and guests will have the chance to ride a trolley through the streets of Cottonwood Falls to the Strong City Dept then to the old school.
Saturday evening events are set to include a time capsule ceremony, courthouse tribute, and a live concert by American Country Music Artist Michael Martin Murphey with a fireworks display as the grand finale.
Officials noted that the Chase Co. Courthouse was built in October 1873. The event is set to mark the 150th anniversary of the oldest courthouse in Kansas that has been in continuous operation since it opened. It is also one of the 8 Wonders of Kansas Architecture.
The Chase Co. Courthouse is located at 300 Pearl St. in Cottonwood Falls.
For more information about the celebration, click HERE.
Copyright 2023 WIBW. All rights reserved.