Leaders recognize National Teach Ag Day in honor of agricultural educators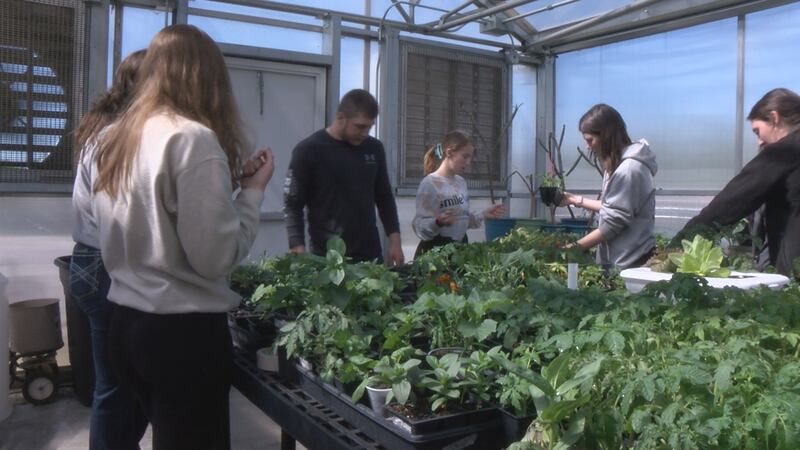 Published: Sep. 21, 2023 at 2:36 PM CDT
TOPEKA, Kan. (WIBW) - National and Kansas leaders recognized September 21, 2023, as National Teach Ag Day to honor agricultural educators across the state.
On Thursday, Sept. 21, U.S. Congressman Tracey Mann (R-KS) said he and Jimmy Panetta (D-CA) helped introduce a resolution to recognize the day as National Teach Ag Day in honor of the importance of agricultural education.
"This resolution recognizes the tireless efforts of agricultural educators, who are committed to training and equipping the next generation of leaders who will feed, fuel, and clothe the world," Representative Mann said. "My agricultural education teacher and FFA advisor taught me to take pride in my work, never cut corners, and always show up prepared. As the co-chair of the Congressional FFA Caucus, I'm honored to introduce this resolution alongside my colleagues. We hope that it sends a strong message to current and future agricultural education instructors that Congress is proud of the career path they have chosen and of the way they continue to invest in the future of agriculture."
Currently, Mann said there are more than 14,500 agricultural educators in nearly 9,000 programs in all 50 states, Puerto Rico, the U.S. Virgin Islands and Washington, D.C. Meanwhile, more than 2,700 students are currently enrolled in agricultural education degree programs at colleges and universities across the nation.
"Our nation's agricultural educators are vital to teaching and inspiring the next generation of leaders, whether in the classroom, fields, or laboratory," said Rep. Panetta. "As we celebrate 75 years of the National Association of Agricultural Educators, it's an honor to put forward a bipartisan resolution to recognize their contributions to our country and the paths that they have opened for so many of our young people. Those who teach ag help carry on a proud tradition that has sustained this country while building the necessary foundation for America's continued agricultural leadership in the world."
Mann noted that the day resolution would designate Sept. 21, 2023, as National Teach Ag Day as it recognizes the importance of agricultural educators in developing the next generation of leaders. The move would also celebrate the 75th anniversary of the National Association of Agricultural Educators.
"We are thrilled for the resolution supporting NAAE National #TeachAg Day and celebrating 75 years of the National Association of Agricultural Educators (NAAE)," said Alissa Smith, CEO, National Association of Agricultural Educators. "The foundation of our organization has been built on supporting agricultural educators at every age and at every stage of their careers. NAAE advocates for agricultural education provides professional development, and works to recruit and retain agricultural educators in the profession. The success of more than 1 million students and FFA members annually is made possible by agricultural educators. Great leaders start with great teachers and our agricultural educators have been cultivating the next generation of leaders since 1917, and there's always room for more. That's what NAAE National #TeachAg Day is all about."
The Congressman indicated that the NAEE is a federation of state agricultural educators' associations with more than 9,000 members. Members are involved in school-based agricultural education at any level, from middle school through postsecondary and state and national agricultural education leadership.
Copyright 2023 WIBW. All rights reserved.